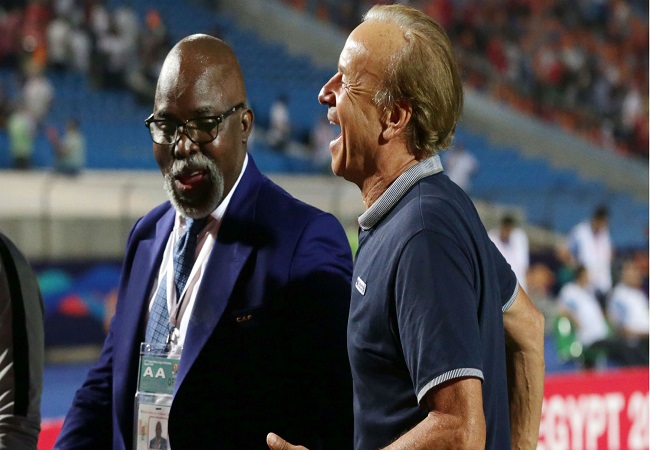 The Nigeria Football Federation (NFF) may have made good its promise to clear months of salaries it owed Super Eagles Coach Gernot Rohr and goalkeepers' trainer, Alloy Agu, following the payment of N40 million and N9million into their respective accounts.
NFF president, Amaju Pinnick had told BBCSports last week that the federation would not shy away from the financial challenges facing the body and the struggles it had encountered in discharging their financial obligations to the country's football teams.
He explained then that although salaries and allowances of national coaches were reduced, adding that Rohr was being owed five months salary, while Agu was being owed 22 months unpaid wages. Super Eagles, he said, were yet to receive their match bonuses and allowances for 19 months.
However, a top official of the NFF told The Guardian yesterday that the Federation had credited Rohr's account with about N40million since January 29. The official also stated that Agu was paid N9million.
"It is true the NFF owned them. But we have just paid Rohr about N40m on Friday and Alloy Agu was paid N9m. We no longer pay our coaches in foreign currency. I am sure they must have got their money by now."
The official, who did not want his name mentioned, stated that the NFF was working hard to make sure the coaches and the players are happy. He couldn't confirm if the players' outstanding bonuses had been paid.
The Guardian recalls that Pinnick blamed COVID-19 for its negative impact on businesses. Including the NFF premium sponsors, the Aiteo Group, for the delay in paying the salaries of the coaches and others.