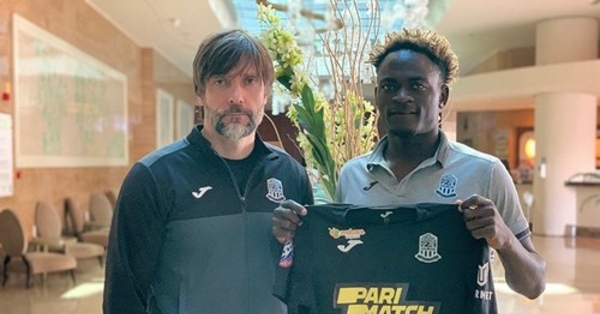 Ukrainian football team Donetsk Olympics have pinned their hopes of scoring on 20-year-old Cameroonian striker Thaddeus Nkenga.
Donetsk coach Igor Klimovsky said he was banking on the youngster from Cameroon ahead of the start of the new season in the Eastern European country.
The coach said he was sad to have lost top striker Shahab and hopes Nkenga would step up to the plate.
"This is a really big loss for us. A striker has to be a goal-scorer, and Shahab was that kind of striker. Now we have Kargbo and we signed the Cameroonian Nkenga. We will count on these guys and expect results from them. I'm happy with them. Veklyak, Nkeng and Hameluk perfectly joined the team, the team accepted them," Klimovsky said.
The Cameroonian striker joined the team on a three-and-a-half-year contract in the transfer window from Porto.
He spent two seasons with the Portuguese side.
Thaddeus was born in the small coastal town of Bunaberi in Cameroon.
He attracted the attention of scouts for Porto academy and was signed aged 17.
Nkenga signed a contract with Porto B before earning promotion to the main team.
In 2019/2020 season, the striker scored one goal in 11 games.
He also scored one goal in two matches for the Cameroon U-20 team.