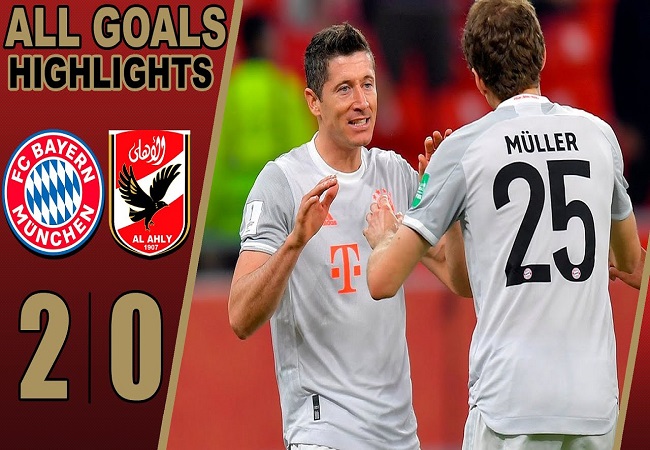 Al Ahly coach Pitso Mosimane has said his charges rarely had a chance to play their usual game in 2-0 loss to European champions, Bayern Munich, in the Fifa Club World Cup semi-finals in Qatar.
The African champions' loss on Monday evening saw Bayern proceeding to the final to face Tigres while Al Ahly will contest for a third place.
Robert Lewandowski scored both goals to hand Mosimane his first defeat since he joined Al Ahly from South Africa champions Mamelodi Sundowns.
Reaction to Al Ahly v FC Bayern courtesy of Bayern Munich website.
Mosimane (Al Ahly coach): "Bayern are number one in Europe. They didn't allow us to have the ball for a long time. We rarely had the chance to play our game. Defensively, we were well organised. Now we are looking forward to the third-place match."
Mohamed El Shenawy (Al Ahly): "Congratulations to Bayern. It was a great game. We tried to implement our strategy. I think we gave a good account of ourselves. The team played well. We played against the European Champions League winner. We can learn a lot from this for the future."
Hansi Flick (Bayern Munich manager): "We lived up to our billing as favourites and deservedly advanced to the final. We were clearly in control in the first half, we could have scored more goals. We needed some time to get a grip of things in the second half but were still dominant. My team turned in a focused display so I'm satisfied. I watched the other semi-final. Tigres are very athletic, they deservedly went through to the final. We'll prepare for it from tomorrow onwards. We want to win the title. If we succeed the team will have rounded off a phenomenal season with a sixth title. It would be an outstanding success, even in FC Bayern's extraordinary history."
Lewandowski: "We're very satisfied we made it to the final. We wanted to have the ball, we were in control, we'd have liked to double the lead earlier. The final is going to be a big match. We'll turn our focus to Tigres from tomorrow onwards. We're having a nice time here, we want to win the trophy and the sixth title. A world cup is always special. We're ready! I hope we'll turn in an even better display in the final and that we won't need so many chances."
Thomas Müller: "It was an unfamiliar situation to play in front of fans again. We've achieved our goal, we're in the final. We earned our chance to win the Club World Cup. It was really friendly, very harmonious. Al Ahly are a great club, the FC Bayern of Egypt, maybe even of North Africa, so we're glad we didn't squander anything. We just failed to score a second goal earlier."
Joshua Kimmich: "The first 30, 35 minutes were okay, really. Then we made too many mistakes and had to run more. That wasn't ideal. Overall, we moved the ball around without going for goal and just maintained possession. Al Ahly came out of the break well. The bottom line is that it wasn't a brilliant performance, but the win was deserved."