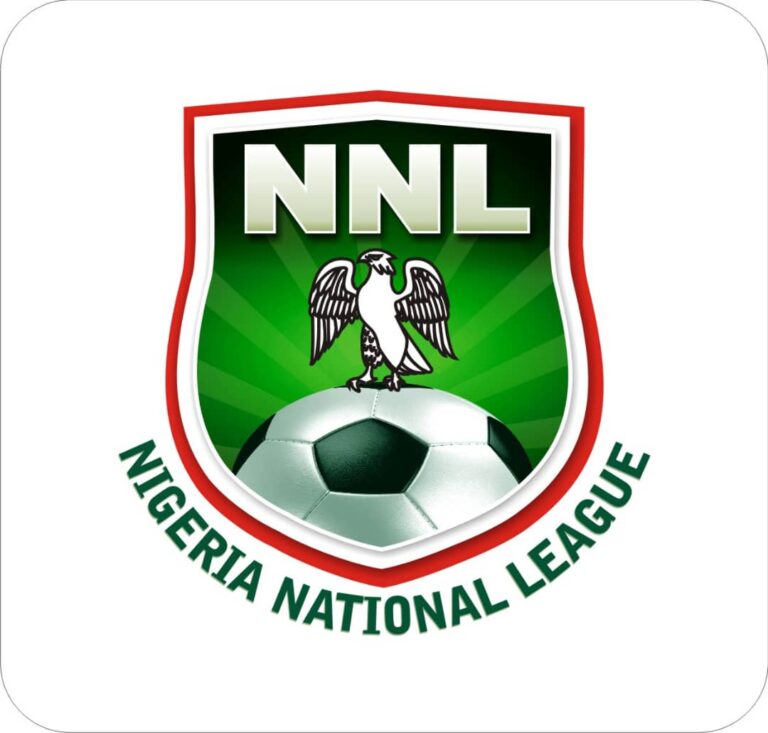 After months of waiting , the much anticipated Nigeria National League (NNL) 2020/2021 season finally gets underway today, Friday 12th February.
Forty six teams will be jostling for action in the new season, twenty one (21) clubs in the Northern Conference, while we have twenty five  (25) teams in the Southern Conference.
A total of Five hundred and twenty eight (528) matches for the entire season will be played, two hundred and forty (240) in the Northern Conference and two hundred and eighty eight (288) in the Southern Conference.
Per week there are twenty two (22) matches, twelve (12) in the South and ten (10) in the North.
Teams are allowed a maximum of three(3) substitutions (Changes) per game, this may also be reviewed.
Two games in the Northern Conference A1, will kickk off the new season.
Nigeria's Anti-graft Agency side EFCC will host former Nigeria Premier League outfit FC Taraba at the popular Area 3 Playing Ground, Garki, Abuja at 4PM while.
In group A2, action spot is at the Abubakar Labo, Malumfashi Stadium, Katsina between Malumfashi FC and another former Nigeria Professional Football League club, Zamfara United FC in one of the first week fixture.
The Nigeria National League has offered only one Transfer WINDOW for now; this may be subject to review also. The date for the transfer window which is usually two weeks as contained in the fixtures recently released by the League Secretariat.
A Super 8 tournament will decide the for teams that will be promoted to the Nigeria Professional Football League(NPFL).
Two best teams in each of the abridged division formats and style will advance to the Super 8 from the four groups.
NNL WEEK 1 ONE FIXTURES & VENUES
Date Saturday13-02-2021
NORTHERN CONFERENCE A1.
Standing BYE is El-Kanemi Warriors of Maiduguri.
Oyah Sports Int'l vs Green Berets FC of Zaria
Venue: Bako Kontagora Stadium,Minna
Rarara FC vs Gombe Utd 
Venue: Kahuta Stadium,Katsina.
Sokoto Utd FC vs Aklosendi Int'l FC Lafia
 Venue: Gindinya Stadium,Sokoto.
Sunday 14-02-2021
NAF FC vs Mighty Jets of Jos
Venue: Area 3 Playing Ground,Garki ,Abuja.
NORTHERN CONFERENCE A2
Saturday 13-02-2021
Niger Tornadoes FC vs G & k Shekarau FC of Kanu
Venue:Bako Kontagora Stadium,Minna
Road Safety FC vs ABS FC Ilorin
 Venue: Area 3 Playing Ground,Garki ,Abuja.
DMD FC Maiduguri vs Kogi Utd
Venue: Elkanemi Warriors Stadium.
Kebbi Utd FC vs Yobe Desert Stars FC 
Venue: Haliru Abdul Stadium,Birnin Kebbi.
SOUTHERN CONFERENCE.
B1.
Saturday 13-02-2021
Go-Round FC Omoku vs Osun Utd FC
Venue: Krisdera Stadium,Omoku.
Stores FC of Lagos vs Giant Brillars FC Enugu
Venue: Agege Township Stadium,Lagos
Delta Force FC vs Vandrezzer FC of Lagos.
Venue: JJ Okocha Stadium,Ogwashukwu,Delta.
Sunday 14-02-2021
3SC of Ibadan vs Rovers FC Calabar
Venue: Dipo Dinu Stadium,Ijebu Ode.
Dynamite Force FC Edo vs Ekiti Utd
Venue: Edo University Field,Iyamho.
FC Nilayo of Abeokuta vs Nnewi Utd 
Venue: MKO Abiola Stadium,Abeokuta,Ogun State.
SOUTHERN CONFERENCE B2.
Saturday 13-02-2021
BENDEL INSURANCE – STANDING BYE.
Saturday 13-02-2021
Crown FC Ogbomosho vs Holy Arrows FC Oleh(Delta)
Venue: Lautech Sports Complex,Ogbomosho.
J'Atete FC Ughelli (Delta) vs Abia Comets
Venue: Otujeremi Stadium,Ugheli.
Ibom Youth FC vs FC One Rocket Ikot Ekpene (Akwa Ibom)
Venue: Ikot Ekpene Stadium.
Sunday 14-02-2021.
JoyCometh FC Lagos vs Gateway Utd FC
Venue: Agege Township Stadium,Lagos.
Apex Krane FC vs Bayelsa Utd
Venue: Agbor Townsip Stadium,Delta. 
Remo Stars FC vs Godosky FC Anambra
Venue:Remo Stadium,Ikenne.