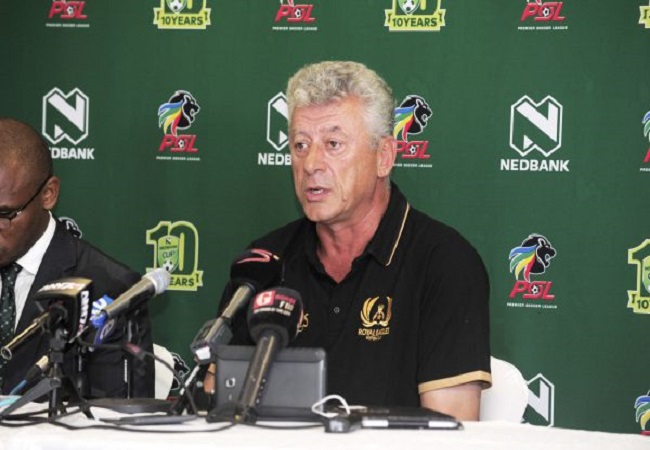 Black Leopards' new technical manager Kosta Papic has joined the club from the Ghana Premier League giants Hearts of Oak. The Serbian tactician says he has returned to the club to bring back his famous style of play of scoring more goals than the opponent.
Papic will be working closely with head coach Lehlohonolo Seema to try to pull the club from the bottom of the table.
"It's a good opportunity for the club and for me to do something about what we started before." Papic told KickOff.com.
"It's Black Leopards who approached me. I don't know whether they had seen in the websites or something that there was some small problem in Ghana. They asked me, 'Do you want to come back?' I said yes and then we started to talk about that. And we waited for everything to happen in Ghana, and when that happened, I came back.
"I'm a technical director. My duty is first team to the academy and everything about the style of football that we're going to have. Everybody is going to report to me. But it's not necessarily to report to me because we are going to be in training every day together."
Asked whether he will be handling training sessions or Seema, the Serbian said: "Not for now. But in the near future probably that is going to happen. If everything is okay… we will see."
He also explains more about what happened in Ghana, where he has been accused by Hearts Of Oak board member Dr Nyaho Nyaho Tamakloe of favouritism and sowing divisions in the dressing room.
"I'm not going to criticise anybody. To respond to that, I'm just going to move on. Yah, I'm going to take it like that." Papic said.
"I don't want to respond to anybody because the things that have happened between the club, the players and me, are supposed to remain in the club. Not in public. We agreed to resign because of that issue of what I said.
"I submitted my resignation. They accepted my resignation and they make me free. I'm not going to respond to what the press say. Because nobody actually got an interview from me [about the accusations] except you now."
The former Orlando Pirates and Kaizer Chiefs head coach says the style he is going to introduce to Lidoda Duvha will not be all about "attack, attack, attack" like he played in his days as Buccaneers coach.
"During your career you get experience in different countries and different levels. The reason why I'm coming back again is because Black Leopards wants to play the style of football that I'm usually playing." He explained.
"What I'm trying to implement since I came to Africa is attacking football… [laughs] It's not all about that 'attack, attack, attack'. What's important is philosophy… Score more goals than your opponents and you are going to win the match."