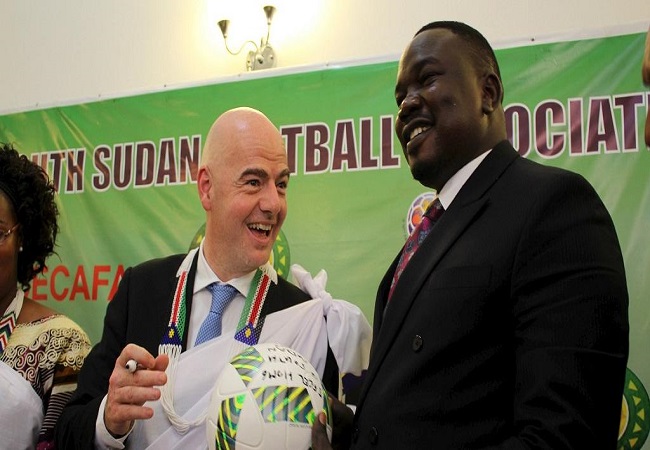 Gianni Infantino landed in Sudan on Monday in the framework of his African tour. The FIFA boss pledged more support for the north African country. 
The FIFA president who has been criss-crossing Africa for the past week, had another busy day. He visited the Khartoum Stadium, meeting with Abdel Fattah al-Burhan, the chairman of the Transitional Sovereignty Council, and attending a women's football training session.
Infantino promised "that FIFA will work closely with the whole football community in Sudan, with women and men, to continue to develop football and to bring Sudan back where it deserves to be, at the top of African football."
"I was saddened when I visited Khartoum Stadium and witnessed its current state." He said.
"This is an historical venue. And we need to protect and cherish its history. We will invest and work together with the government and the SFA to make everyone in Sudan proud of the stadium again."
Sudan was a founding member of the Confederation of African Football (CAF). And they hosted the first-ever Africa Cup of Nations in 1957. The country achieved impressive results in the 60's and 70's before falling by the wayside.
"We spoke with the Chairman of the transitional sovereignty committee about investment in football. Because there is incredible talent in the country to be developed." Continued Infantino. "We spoke about football being part of the school system and about women's and girls' football. – A very important area of the game."
The latest leg of Infantino's African tour comes after voyages that have taken the FIFA president to Mauritania, Senegal. The Central African Republic, Rwanda, Congo-Brazzaville, DR Congo and South Africa the same. In recent years, Infantino has been a frequent guest in Africa. But his current trip, in the middle of a global health pandemic, has invited scrutiny for its conspicuous timing.
The CAF elections will take place on 12th March in Morocco with a field of four candidates. Assuming that The FIFA will not clear the current president Ahmad Ahmad to run the elections . South Africa's Patrice Motsepe, Mauritania's Ahmed Yahya, Ivory Coast's Jacques Anouma and Senegal's Augustin Senghor are all vying for the top job in the African game. On his tour, Infantino has met all candidates so far, with the exception of Anouma.