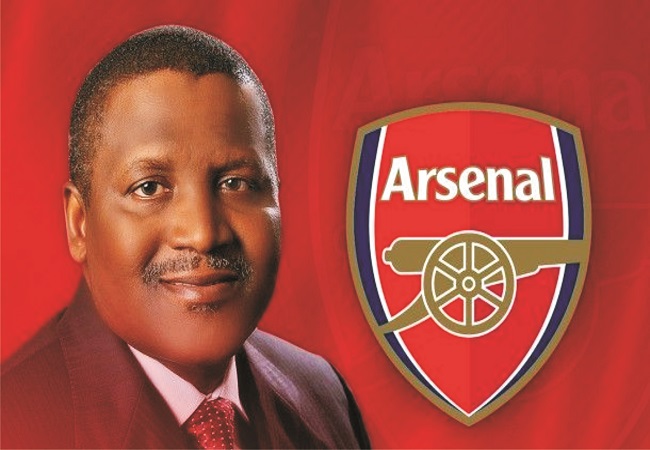 Aliko Dangote, commonly referred to as Africa's richest man, put the purchase of the Premier League giant on his 2021 wish list. The Nigerian billionaire has been once more in link with an attempted Arsenal takeover. Something he has seemingly been trying to do for a decade already – since at least 2011.
According to a social media poll by www.football.london, Arsenal fans are keen for African businessman Aliko Dangote to take over the football club.
When asked via Facebook what their message to Dangote would be the football website received a number of replies, with the majority desperate for Arsenal to push for their return to the summit of English football with his financial backing.
Fans are said to have flocked to this news to express their hopes for a change at the top. With current Arsenal chief Stan Kroenke's relationship with supporters soured due to a lack of investment and public appearances.
Last year Dangote put the purchase of the Premier League giant on his 2021 wish list. The richest man in Africa also revealed his plans to buy the Gunners.
The Nigerian boasts a net worth of more than £8.5billion. And he made his fortune after founding Dangote Cement, Africa's largest cement producer – with the 62-year-old also owning stakes in publicly-traded salt, sugar and flour manufacturing companies.
He had promised a takeover bid in 2020. But with his Dangote Refinery – set to be one of the world's largest oil refineries – still under construction, he has moved the date back.
"It is a team that, yes, I would like to buy some day. But what I keep saying is we have $20billion worth of projects. And that's what I really want to concentrate on." Dangote told the David Rubenstein Show.
"I'm trying to finish building the company. And then after we finish, maybe some time in 2021 we can.
"I'm not buying Arsenal right now. I'm buying Arsenal when I finish all these projects. Because I'm trying to take the company to the next level."