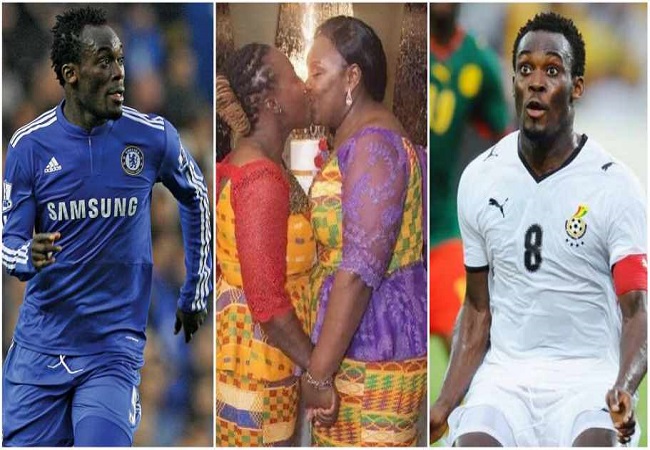 Former Black Stars midfielder, Michael Essien, is currently under fire for supporting the LGBTQ (Lesbian, Gay, Bisexuals, Transgender, and Queer) + community in Ghana. Many Ghanaians are against the LGBTQ+ community in Ghana as it has been discussed on social media.
Some Ghanaians have also come to the defense of gay rights in the country. However, one prominent Ghanain to support the right of gays is Essien. The former Chelsea star man took to his official Instagram and Twitter handle to offer his unflinching support for LGBTQ+ community. "We see you, we hear you, we support you. Our LGBTQIA plus Community in Ghana." He wrote.
His decision didn't go down well with some social media users as they roasted him. "Michael Essien is a perfect fit for Sister Derby. Egyimifuor mmienu. Someone tell him before we start agebda, we have Receipts so there was no need deleting." One Twitter user wrote.
"Drogba built a hospital in Cote D'ivoire, gave out his hospital for free screening. Drogba provided digital education for Africa. Eto'o donated money for Cameroon in COVID time and scholarships. What Michael Essien could do in this time is LGBT ? Kwasiasem kwa #Ohia Mahama." Wrote nother user.
"Michael Essien never understood our culture: Dishonored his father, dumped Nadia, married Puni, cheated on her with kids with a slay queen. After Princess Shyngle found out he had no remorse only for Shyngle to force the break up. LGBTPEDO activists of Ghana and lifestyle." Another user else shared.
Following reactions on social media, the football star has deleted the post. But YEN.com.gh has a screenshot.
Meanwhile, police officers of the Ghana Police Service have moved to close down the office operated by Lesbian, Gay, Bisexuals, Transgender, and Queer Individuals (LGBTQI) in Kwabenya. The office was closed down by the Police on Wednesday, 24th February 2021. According to a 3news report, the landlord had said the occupants were no longer using the office for the original purpose of which they rented it. This comes after the Director of LGBTQI+ Rights in Ghana, Alex Kofi Donkor, asked Ghanaians to look at issues relating to LGBTQI, as human rights issues. YEN.com.gh also reported that the National Security has raided the administrative office of LGBT+ Rights Ghana in Tesano in Accra to shut down the office which was opened in February 2021.
In a post on social media, LGBT+ Rights Ghana disclosed its members no longer have access to a safe space as their lives are being threatened. "This morning, our office was raided by National Security. A few days ago, traditional leaders threatened to burn down our office. But the police did not help. At this moment, we no longer have access to our safe space. And our safety is being threatened." The post read.