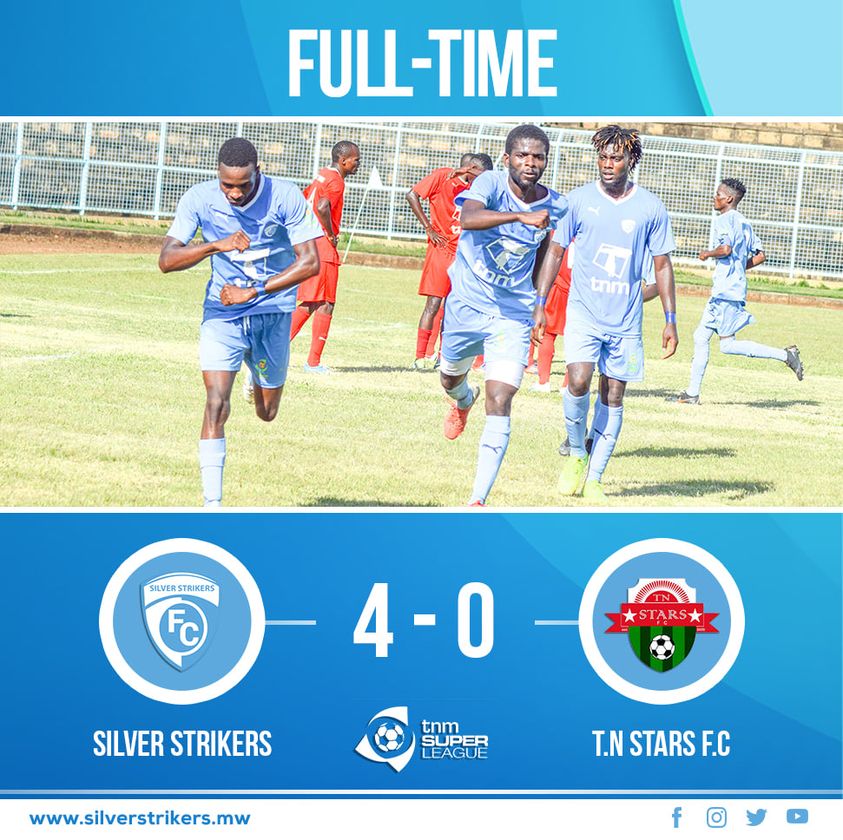 Maxwell Gasten scored a hat-trick as Silver Strikers FC turned on the style to dim TN Stars 4-0 and bounce back to the TNM Super League summit on Monday afternoon.
Maxwell opened the scoring in the 20th minute then added the second deep in the first-half before completing the treble three minutes to break at Silver Stadium in Lilongwe.
It was his second treble of the season to make it eight goals in 10 games and with it, help Silver return top on 22 points.
Coached by Zambian Dan Kabwe, Silver have displaced city rivals, Civo Service United, who warmed the driving seat on Sunday following their 1-0 win over Blue Eagles courtesy of Lanken Mwale's effort. Second-placed Civo have 20 points.
Elsewhere, seasoned forward Zicco Mkanda scored alongside left-back Yamikani Fodya to down Mighty Tigers 2-0 at Mpira Stadium, where holders Nyasa Big Bullets built on their 3-0 beating of Mzuzu Warriors on Saturday.
Mkanda had bagged a double in the win over Warriors at Kamuzu Stadium in Blantyre.
Bullets moved two steps up the Super League ladder to position five with 18 points from nine games whereas Tigers are second from bottom on eight points from 10 games.
Tigers had kicked off the restart on Friday when Mathias Nyirenda's effort handed them a 1-0 win over Ntopwa FC at Kamuzu Stadium in Blantyre whereas Red Lions lost 0-1 to Warriors the same day.
Still on Sunday, Be Forward Wanderers FC lost 1-0 away to Moyale Barracks in the Northern Region city of Mzuzu where they had defeated third-placed Ekwendeni Hammers 2-1 the previous day with Nigerian Babatunde Adepoju netting two for his team and an own goal.
Wanderers are on 11th place with 10 points from nine games on the 16-member log table.
Chitipa United anchor the table with seven points from 10 games despite registering their only second win of the campaign when they saw off Mafco 1-0 on Sunday.
The 2020-21 season started in January this year before being halted due to rising Covid-19 games that led to the forfeiture of the entire 2020 campaign. Games are being played behind closed doors.