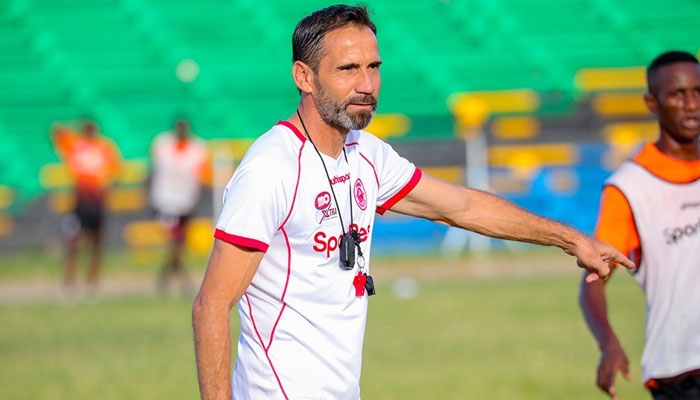 Simba SC coach Didier Gomes Da Rosa has shared exclusively to Africatopsports.com, the Tanzanian giants plans for the ongoing CAF champions league as they reach their first ever quarter-final.
Africa Top Sports: How have you found your course so far?
Da Rosa: We had a very good trip, at the start of this group stage, we haven't been beaten so far, we knew we had a lot of qualities, but we always remain humble, that's a surprise for many people but we will finish first in this group which, remember, is not easy with El Merrikh and defending champion Al Ahli, but we will try to work harder and go further than the quarter-finals .
It is true that the group was difficult but we were able to keep up, we started well and that allowed us to gain confidence and as I said, the group is working very well, we are ambitious to go further far and I know that Simba has the qualities to become one of the greatest in Africa in the years to come.
Africa Top Sports: Yes, you beat Al Ahly and Vita Club, two well-known teams, what is your strong point during this group stage?
Da Rosa: Yes it's true, we beat Vita club in Congo, Al Ahli also at home, our strong point is that we were able to be very solid, when I arrived I insisted a lot on fluidity defense and the balance of the team block, it is this fluidity that must be held if we want to go far in this Champions League, in fact defensively we have only taken one goal and it is very encouraging, but also we can easily circulate the ball and make the opponent run.
Simba is a very playful team, which develops good football, a good possession game, we try to create gaps in the opponent, we create a lot of chances, we just have to improve the efficiency in front of the goals, but this team, let's remember, remains solid defensively with very good team play.
Africa Top Sports: your next goal?
Da Rosa: Our next goal is to take back the reins of the championship, we are currently second in the group but we will try to invest the three games behind, to widen the gap with our pursuers and put a definitive blow to this championship, and then continue to work for the next quarter-finals, it's very important.
It will be a very high level quarter-final, indeed this year the pace is high, I saw the matches for example of CR Belouizdad, which offers something remarkable at the technical and tactical level, so preparing for this phase is our main goal and Simba's team, which is growing enormously, is able to take a new step.