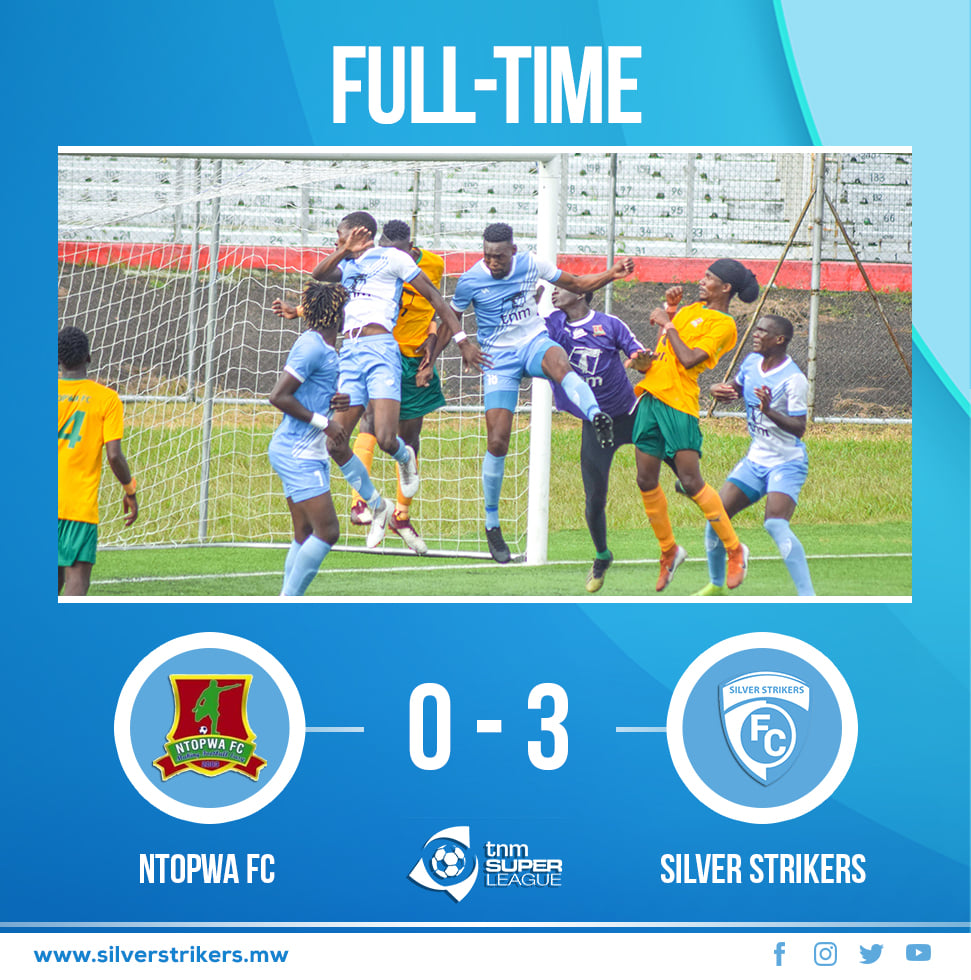 Unstoppable Silver Strikers FC struck thrice in a 3-0 win over Ntopwa FC at Kamuzu Stadium in Blantyre on Sunday to move four points clear at the TNM Super League summit.
The Zambian coach Dan Kabwe-led Silver had travelled from their Lilongwe base in the Central Region to the Southern Region over the weekend.
The trip proved a success as Silver beat Red Lions 1-0 at Chiwembe Stadium on Saturday through striker Stain Davie's goal in the commercial capital, Blantyre.
On Sunday, Davie was on target again alongside Maxwell Gasten and Levison Maganizo to hand Ntopwa a fourth consecutive defeat that leaves them 11th on the table with 14 points from 11 games.
Silver lead the standings on 28 points from 12 games, replacing at top of the 16-member log table Civil Service United.
The second-placed Civil, who were not in action this weekend, have 24 points from 12 matches and remain the only unbeaten team this far.
Holders Nyasa Big Bullets occupy third place with 22 points from 11 matches after edging out Ekwendeni Hammers 1-0 on Saturday following Gomezgani Chirwa's goal at Mzuzu Stadium.
In Lilongwe, Blue Eagles gave away their lead to draw 2-2 with visiting Be Forward Wanderers on Sunday.
Gaddie Chirwa hit a brace for the police officers to erase striker Peter Wadabwa's goal for Wanderers who ended up grabbing the leveller through Nigerian Babatunde Adepoju.
Wanderers remain on ninth place with 17 points from 12 games whereas Eagles slipped by a step down to 13th place on 12 points from 13 games.
In the Northern Region, Savenda Chitipa United's revival continued when they defeated Mighty Tigers 2-1 at Karonga Stadium near the border with Tanzania.
Chitipa moved by a step up to 12th place with 13 points from 13 games. Chitipa have been replaced at the bottom by Mzuzu Warriors who have eight points from 11 games after losing 1-2 at home to Mafco on Sunday.
Peter Mughogho and Emmanuel Muyira scored for Chitipa whereas Tigers' goal came from Precious Chipungu. Tigers are second from bottom on nine points from 13 games.
With 21 points from 13 games, Mafco jumped three places up to fourth on the table, thanks to the goals which Joseph Donsa and Zikani Sichinga scored at Mzuzu Stadium. Suzgo Mwakasinga scored the hosts' face saver.