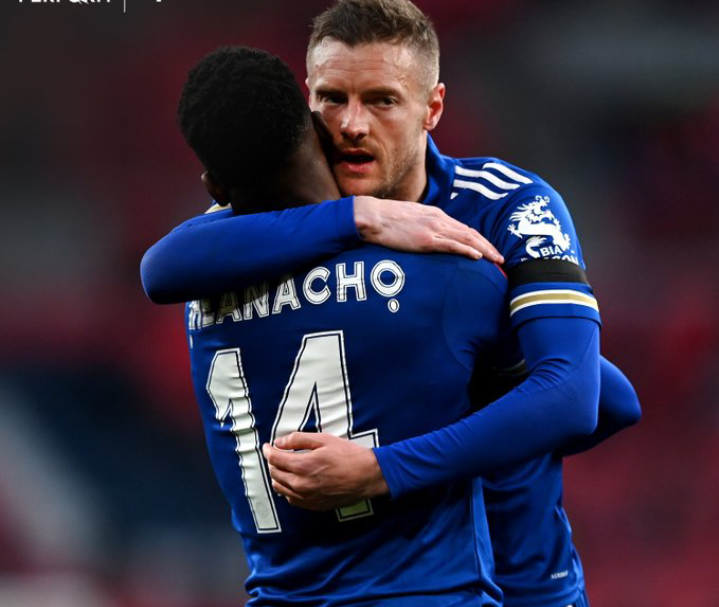 Kelechi Iheanacho has described his partnership with Jamie Vardy as an 'outstanding' one and hailed him as a great player.
Iheanacho 55th minute goal from a Vardy assist ensured Leicester City defeat Southampton 1-0 in the semi final of the FA Cup.
Vardy outpaced his market before he squared the ball in for a waiting Iheanacho who made no mistake to score the lone goal of the intriguing semi-final at the Wembley Stadium.
Speaking after the game, Iheanacho refused to take all the accolades but hailed his teammates for the win.
He said, "We did it together, the team. 
"It's not a one-man show. 
"I'm happy with the way we stuck together and that I was in the right place at the right time The partnership between Jamie and me is outstanding – he's got the pace, he's got everything.
"He's a great player and he set up the goal. 
Watch Iheanacho FA Cup Goal Against Southampton 
"I think the FA Cup loves me, and I love the FA Cup!
"I've been unlucky the past few years, but it's working out really well now and I need to keep working hard to go to the next level. 
"I can't wait for the final – wow, it'll be amazing."
With the goal, Iheanacho is now Leicester City top goalscorer this season.
He also becomes the first Nigeria player to score 15 goals for a Premier League club after Odion Ighalo who scored 17 goals while in Watford in the 2015/2016 season.
Also, Leicester City have reached their first FA Cup final since 1969, a gap of 52 years.
According to Opta, it is the longest between finals since Portsmouth went 69 and Cardiff went 81 between finals before facing one another in 2008.
Leicester City will now play Chelsea in the FA Cup final .