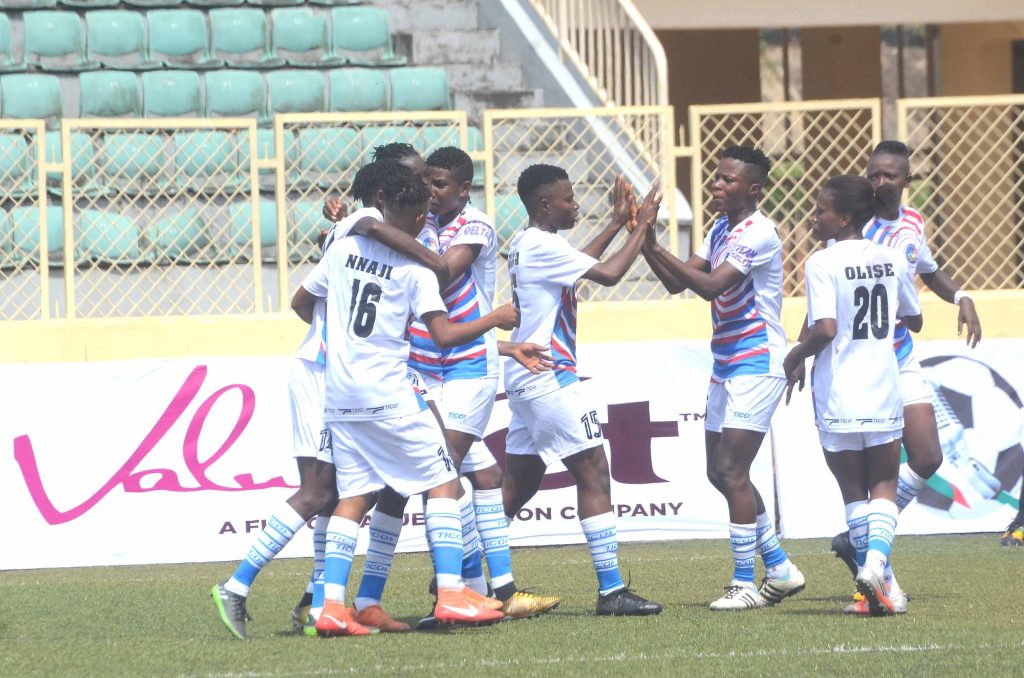 Delta Queens kicked off the 2020/2021 Nigeria Women Football League NWFL Premiership Super Six with an emphatic 2-1 victory over Edo Queens on Monday.
Both teams locked horns at the Dipo Dina Stadium Ijebu Ode for the opening game of the Super Six.
Delta Queens headed to the Super six after going unbeaten in their last eight games before the decision to play a Super Six was reached.
Edo Queens threatened first in the 25th minute with Glory Ogbonna whose long angle ball headed down by Lola Phillips to Odueke.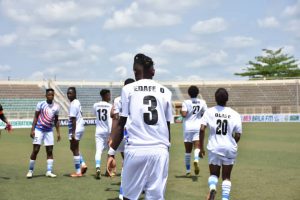 Odueke then found Wogu who stormed into Delta Queens vital area and smacked a shot, but Angela Michael did well to defend the ball and kept her side from conceding.
The two teams seized each other in a cagey encounter looking forward to get the first goal.
Delta Queens new recruit, Chiamaka Okwuchukwu gave broke the deadlock in the 41st minute.
The former Royal Queens player received a pass from Chioma Olise before she dribbled past Christy Ohiaeriaku before she tucked the ball inside for the opener.
That was the only goal of the first half in what was an entertaining first half.
Edo Queens returned to the second half with more determination to level.
Delta Queens conceded a foul 23 yards from the goalpost as Nneka Julius stepped up with a superb free-kick and equalized in the 53rd minute.
From there it became more about Edo Queens as they kept their opponents pinned in their own half.
They almost completed the comeback in the 56th minute as Julius sting the palms of Delta Queens goalkeeper, Iheoma Onuegbu after Odueke peeled away from her marker.
Again, Odueke through pass to Animuda was intercepted by Omamuzo who touched the ball with her hands as a free kick was awarded against Delta Queens.
Delta Queens head coach, David Ochei brought him experienced Amarachi Orjinma in the 61st minute.
Amarachi brought more force to the game for Delta Queens as hey began to push high to restore their lead.
In the 70th minute, Edo Queens goalkeeper, Christy Ohiaeriaku made a brilliant save to deny Delta Queens from scoring as she parried the ball for a corner kick.
Comfort Folorunso scored the winning goal in the 71st minute from a Omamuzo's corner kick to make it 2-1.
Okuchuckwu almost doubled the lead in the 76ty minute after she was sent skittering down the right on the break at speed. 
She enters the box and lashes a fine low diagonal drive inches wide of the bottom left. 
Edo Queens continued to push for the equalizer and with nine minutes remaining, Julius picked a loose ball and plays a simple first time pass for both Osaghae and Owoeye to battle upfront.
However, the flag was raised for an outside and Delta Queens continued to thwart every effort from their opponent to equalize until the final whistle.
Delta Queens will play Rivers Angels in the second game of the Super Six.