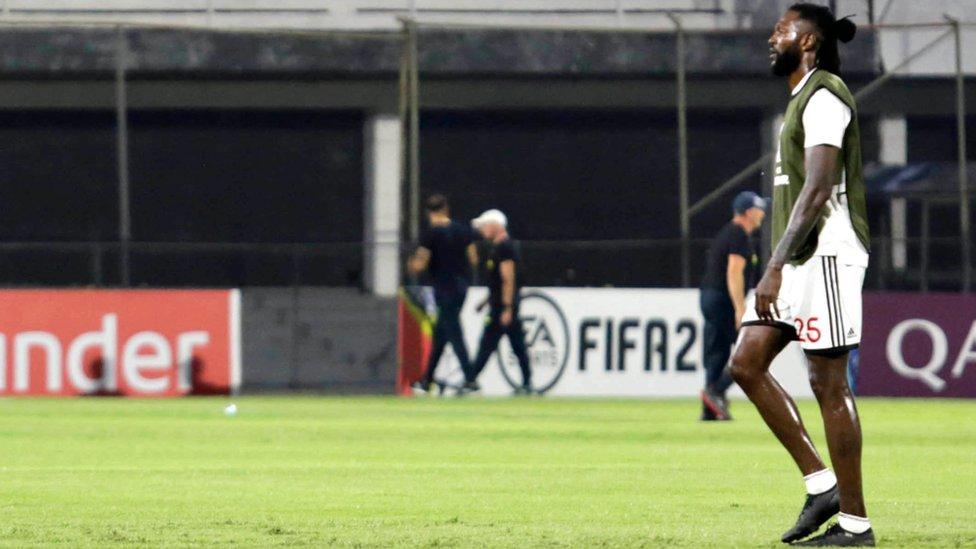 Former Arsenal and Real Madrid star striker, Emmanuel Adebayor, is reportedly training with a local club back home in Togo.
A website called Foot.tg reports that Adebayor has been training with OC Agaza ahead of the restart of the domestic league.
"We could notice in this lot, Emmanuel Adebayor, the former Real Madrid player with his emblematic bib 4, performing among the Agaza players.
"The former captain of the Togo's Sparrow Hawks, who came into play, brought enough material to his team in terms of goals, but he also allowed several young players to realize the dream of playing one day with a star of his caliber," the website reports.
It added: "At a time when all the clubs are looking to compose a team capable of outwitting the opponents when the season begins, the management of the Tokoin Greens may well dream of having such a Scorpion in their team for the new season."
Agaza are based in Lomé and play in the top division of Togolese football. Their home stadium is Stade Agoè-Nyivé.
It remains to be seen whether Adebayor is training to keep fit or wants to join Agaza.
Adebayor has not played competitive football for 10 moths.
The former Tottenham Hotspur and Manchester City striker had his contract at Paraguayan club Olimpia terminated by mutual consent in July 2020.
The 37-year-old striker featured twice for Olimpia and did not score before the Covid-19 pandemic which made his travel difficult led to the termination of the contract.
The club said that the "economic situation the country is going through" was a factor in ending the contract.
Adebayor is a free agent.