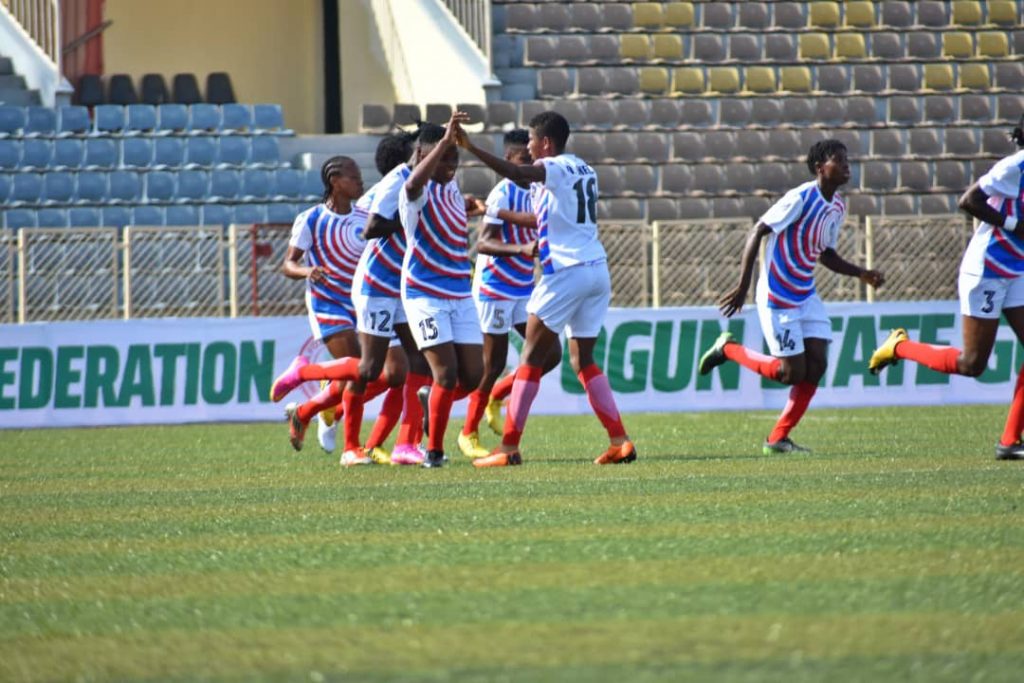 Delta Queens maintained their unbeaten streak in the Nigeria Women Football League (NWFL) Super Six following an emphatic 2-0 win against Sunshine Queens.
After resting on Wednesday, Delta Queens returned to action at the Dipo Dina Stadium Ijebu Ode for Matchday of the NWFL Super Six.
An intriguing encounter between two great sides that kicked off the Super Six impressively, saw Sunshine Queens taking the early charge.
Sunshine struck in two successive attempts just four minutes of action as Abideen Suliat cross was headed off target my Rose Ekong before Demehin Tosin effort skewed wide.
Delta Queens were not perturbed by the threats and and their first attack broke the deadlock for the five times NWFL champions.
In form striker Chiamaka Okwuchukwu scored in the  7th minute after she beat Elizabeth Johnson to score her second goal of the tournament.
The goal was a shot in the arm for Sunshine Queens who began to push for an equalizer.
Folorunsho Comfort clearance denied Sunshine an attacking chance as Delta Queens at the other end turned it to an attack.
Goalscorer, Okwuchukwu lobbed a ball for Chioma Olise who couldn't control the ball.
Yakubu almost levelled for Sunshine Stars fate she was played through by Ekong but her attempt went wide.
Delta Queens midfielder and defence curtailed the attacking efforts of their opponent thwarting all their moves as the half ended 1-0.
The second goal saw Sunshine Queens come all out to make a mark but Delta Queens safe hands on goal, Ihuoma Onuegbu who saved a penalty in their last encounter continued to make very good saves. 
Coach Ochei half brought  in Amarachi Orjinma and Peace Abbey to strengthen the midfield and attack.
Abbey introduction ignited more force for the attack and in the 54th minute, she was upended inside the box by Sunshine Queens player as the referee pointed to the spot.
Okwuchukwu stepped forward and made no mistake to score from the spot doubled the lead to 2-0.
The former Royal Queens players almost scored a hat trick but her effort was halted by Ekong.
It was a sweet victory for Delta Queens who now maintained their unbeaten streak in the NWFL since last year when they lost 1-0 to Confleunvlce Queens.
After match day three, FC Robo Queens is on top of the log with 7 points and a goal difference.
same with Delta Queens on joint 7pts but with a +3 goal difference as against a +5 advantage on the side of the Lags based FC Robo side.
Defending champions Rivers Angels revived their hope with their first win in two games.
They are now third position with 5pts and +4 on goal difference.
Sunshine Queens on forth with 4pts and no goal advantage, while Bayelsa Queens has just 1pt with a -6 goal difference on 5th position as GD with 
Edo Queens yet to win a game on 0 pt with goal a -5 goal difference.