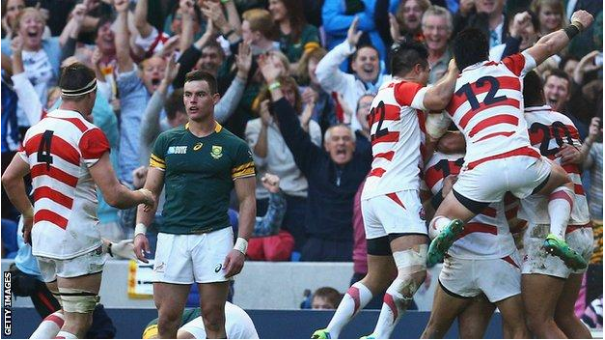 Flashback: The Day Japan Defeated South Africa in 2015 Rugby World Cup
Many fans will concur that Japan beating South Africa in the 2015 Rugby World Cup tournament is one of the most iconic moments in history! Going into the game, the South African team were one of the favorites to win the tournament while Japan came in as underdogs.


It goes without saying that Japan won thanks to a last-minute try that saw the game ending 34-32 in what is now one of the most memorable sporting moments! Let us take a quick flashback to what exactly happened; including the tactics the Brave Blossoms deployed to down the Springboks.
Low Bodies at Breakdown
For starters, Springboks were unable to create much width and play with enough pace to stretch a superbly organized Japanese defense. This is because Japan's ability at the breakdown combined with their focus on keeping the game narrow through the Centre of the pitch where possible. Additionally, at the breakdown, the body position of the Japanese players especially that of the front row was low, balanced and more so excellent giving them room to contest the ball and stay on their feet. Japan played a fast and intelligent game plan to maximize their strength turning their major weakness which was size, into their biggest asset. They were disciplined enough to play through the phases at pace going wide once the South African's Springbok defense had been condensed. The perfect example for this was Japan's final two tries and this allowed them to record their most significant win in test history.
''Ruck and Run'' Tactic
Japan's coach Eddie Jones knew too well that his team would not stand a chance if he tried to match South Africa's power game. Instead, he employed the popular ''ruck and run'' tactic which relied heavily on low tackles, foot work, crisp passing and speed. Japan is known to be one of the fittest nations in rugby union and the best at ball handling. To achieve that, two of the qualities needed to execute 'ruck and run'. Most of the small stature rugby nations employ this tactic against more brutal opposition but usually is not as effective still due to sheer size disparity.
Energy
Japan's tenacity, innovation and energy stunned the comparatively speedy South Africans at the very onset of the game. Springboks on several occasions broke through the Japanese defense but instead of powering on to restore normality, Japan kept fighting back with impressive patience and sublime movement. As springboks wilted due to poor physical and mental conditioning, Japan cranked up the pressure and for the final 10 minutes laid siege to the South African line. With three points behind and only seconds remaining, Japan won a much-deserved penalty.
A memorable draw that would have been celebrated around the country would have been secured by a successful penalty kick but captain Michael Leitch turned it down remarkably for one last chance of glory. Leitch's gallant all or nothing decision will go down in rugby folklore as coach Jones admitted that he would have taken the penalty instead of going for the try.  Having such courage in the abilities of your team and having them rewarded in such a spectacular way has by far been one of the most inspirational moments. Japanese victory was so remarkable since in almost every conceivable factor, South Africa were superior prior to kick off.
Worst Game Experience Ever
It was supposed to be an easy game for Springboks in the end the headlines read; Japan defeats the Goliath of rugby. This defeat was a humiliating result for a nation that holds its rugby team on a pedestal. Springboks kicking game was found wanting in the first half, their pack was unconvincing despite a weight advantage. Indiscipline did cost them in the second half. A couple of kickable penalties were given away after the break to allow Goromaru to keep Japan in touch. Coenrad's late yellow card proved to be costly after Japan were able to stretch the play for Hesketh to touch down in the corner. South Africans coach Heyneke Meyer said that it was their toughest world cup ever. He further stated that every game was going to be tough but there were no excuses for losing. He also admitted their discipline was not good enough which explained the penalties conceded. To their credit, they picked up the pieces to get the 2nd Runners up prize of the tournament.
Biggest and Best Tournament to Date
World rugby declared the 2015 tournament as the biggest and best world cup ever with record attendances, reach and more importantly very competitive. Records were broken on and off the pitch including ticket sales of over 2.47 million and an official fan zone attendance of over one million. Fans packed into the venues to witness some of the most competitive matches of any rugby world cup. The biggest and major highlight included Japan claiming one of the greatest upsets in sporting history by beating South Africa and Romania staging their biggest ever comeback with their win over Canada. The knockout stages saw some thrilling rugby which included Argentina's pulsating win over Ireland in the quarterfinals and in the semifinals, New Zealand's narrow two-point win over South Africa. 
Wrap Up
Rugby world cup 2015 truly created unforgettable memories for all involved as it was a celebration of rugby with packed venues. The atmosphere was vibrant as that was the most watched, best attended, most socially engaging and more importantly most competitive world cup. Majority of us will always remember Japan when rocking springboks when Karne Hesketh's late try secured a 34-32 win, shocking fans and pundits across the world!