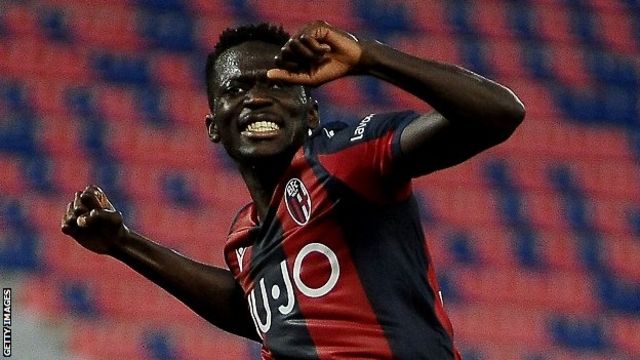 The Gambia striker, Musa Barrow, scored for Seria A side, Bologna in their 1-1 draw with Torino on Wednesday.
Barrow has now scored in second consecutive games for Bologna this campaign.
The Gambia Football Association, has, through its twitter handle celebrated the striker's rich vein of form.
"[email protected] scored for the 2nd consecutive match as Bologna drew 1-1 at home to Torino. This is Barrow's eighth of the season and he's the youngest player in the top 5 European leagues, this season, to record at least eight goals and eight assists," the FA tweeted.
Barrow is part of the Scorpions' history-making squad that has qualified for the 2021 Africa Cup of Nations finals for the first time.
Commenting on the match, Bologna coach Mihajlovic told the club's website that his side struggled.
"It wasn't a brilliant game. A draw is the right result because neither side deserved to win nor lose. Mandragora's goal? It would be difficult for him to reproduce that if he tried it 100 times. They threatened more in the first half, through Belotti and Verdi, than in the second.
"We could've done better in a few of our counter-attacking opportunities but that's just how it was this evening. The Super League? It lasted less time than a cat on the motorway. They had bitten off more than they could chew, and they knew it," Mihajlovic is quoted saying.