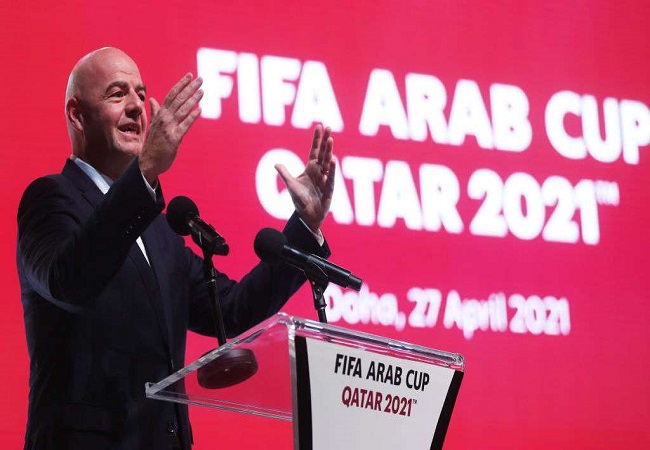 The draw for the FIFA Arab Cup that took place on Tuesday at Katara Opera House in Doha has been released. Algeria and Egypt's pair in Group D in a tournament that will serve as the official dress rehearsal in December for 2022 World Cup hosts Qatar.
Originally launched as a pan-Arab tournament last June and dubbed the 'Arab Mundial', FIFA stepped in to recognise The Arab Cup as the official test tournament in the year before the 2022 World Cup proper. Previously that test role was filled by the quadrennial Confederations Cup.
The Arab Cup will see six World Cup stadiums host 23 teams, with invitees from the Gulf states and Africa making up the playing field. After an initial knockout stage, 16 teams will be split into four groups, with the top two from each qualifying for the quarter-finals.
"Following the successful hosting of the FIFA Club World Cup in 2019 and 2021, the FIFA Arab Cup provides Qatar with yet another opportunity to test our plans and preparations ahead of the FIFA World Cup." Said World Cup 2022 CEO Nasser Al Khater.
"Fans, players and officials will have the opportunity to use World Cup infrastructure, including stadiums, training sites and other facilities. We greatly look forward to hosting national teams from across the Arab world as we build up to the biggest sporting event in our region's history in 2022."
Preliminaries will be played with Somalia, Comoros and South Sudan among the teams that will be in the hunt for a group stage ticket. In Group A, the hosts have been paired with Iraq as well as the winners of both Oman vs Somalia and Bahrain vs Kuwait. African heavyweights Algeria and Egypt will face off in Group D, with the winners of Lebanon vs Djibouti and Libya vs Sudan completing the quartet.
The tournament will kick off on November 30, with the final taking place on Qatar national day on December 18, the same day Lusail will host the World Cup final in 2022.
The draw:
Group A: Qatar, Iraq, Winner of Oman v. Somalia and Winner of Bahrain v. Kuwait
Group B: Tunisia, UAE, Syria and Winner of Mauritania v. Yemen
Group C: Morocco, Saudi Arabia, Winner of Jordan v. South Sudan and Winner of Palestine v. Comoros
Group D: Algeria, Egypt, Winner of Lebanon v. Djibouti and Winner of Libya v. Sudan