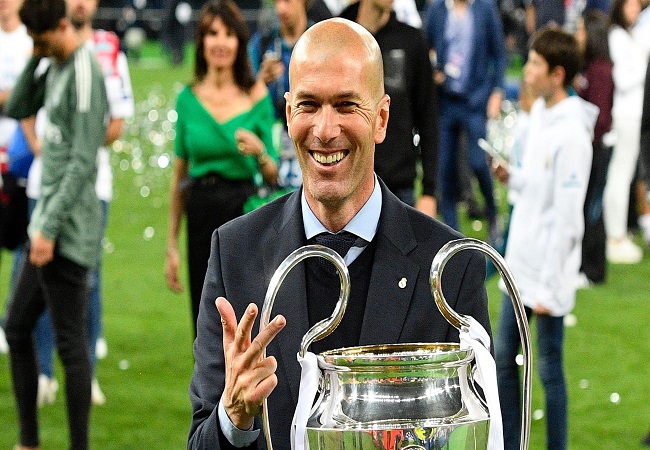 Legendary Cameroonian utility player Geremi Njitap believes current Real Madrid manager Zinedine Zidane is the best coach in the world.
Zidane became the first coach to win the UEFA Champions League three times consecutively. He achieved this best performance between 2016 and 2018 as Madrid manager.
This success led to Zidane being named Best FIFA Men's Coach in 2017. And Geremi has showered his former teammate with praise.
"Zidane is a guy who loves what he is doing. And only he can decide what he wants to do." Geremi told Radio Marca.
"If Zidane wins another Champions League, it is something we have never seen before. But even if he does not win it, he is still the best coach in the world.
"When you see Zidane's career as a coach, you see he has only a few years. But so many titles. His percentage is the best. He is young, but with many titles. No one has ever done that before."
The French legend resigned as Madrid manager in 2018. But he returned to the Spanish giants as a manager in 2019. And he proceeded to win another La Liga and Supercopa de España title.
"As we both speak French, I helped Zidane a lot in his adaptation. He is a very shy guy, he had a great experience playing. And now he shows that if you work, you can go where you want." He continued.
The most successful periods of Geremi's club career came at Madrid and Chelsea. He won the UEFA Champions League with the first and domestic honours with the latter.
Chelsea are set to host Madrid in the UEFA Champions League semi-final second-leg match on May 5. The two teams ended the first-leg game in 1-1 draw on Tuesday.
"Chelsea or Madrid? I can't choose. I want both of them to win… It's mom or dad. Let the best one take it." He added.
Geremi earned 118 caps for Cameroon from 1996 to 2010, scoring 13 goals.