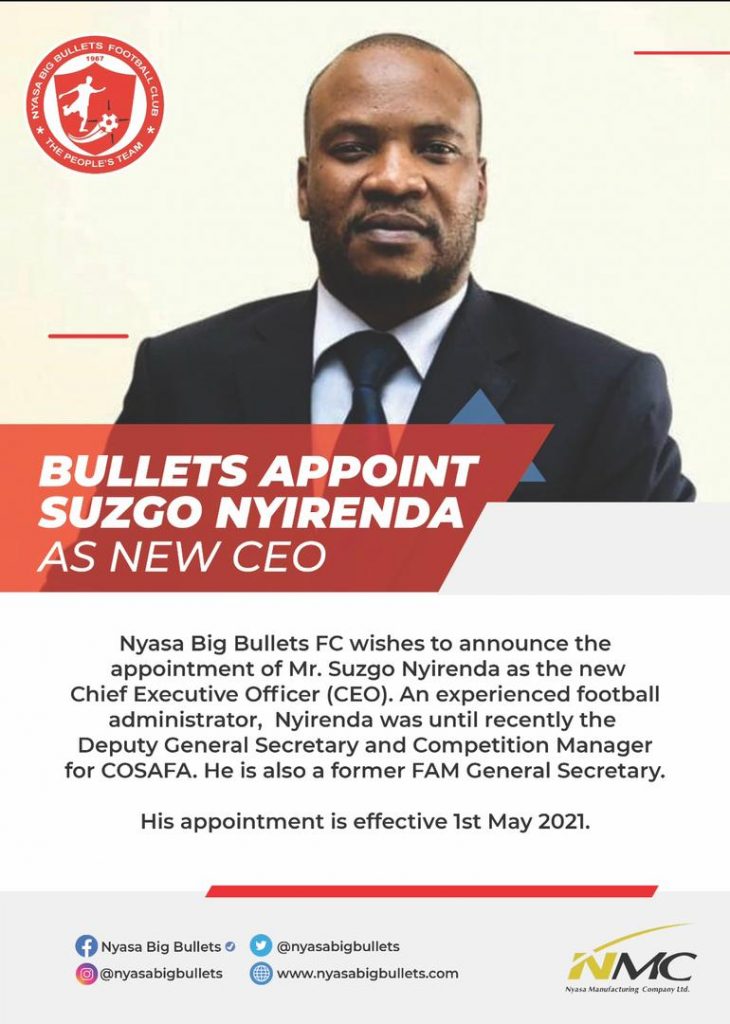 Malawi Super League champions Nyasa Big Bullets have hired highly rated football administrator, Suzgo Nyirenda, as Chief Executive Officer (CEO).
Bullets confirmed the appointment of Nyirenda via a statement released on Monday morning.
"Nyasa Big Bullets FC wishes to announce the appointment of Mr Suzgo Nyirenda as the new Chief Executive Officer (CEO). An experienced football administrator, Nyirenda was until recently the Deputy General Secretary and Competition Manager for COSAFA [Council of Southern Africa Football Associations]. He is also a former FAM [Football Association of Malawi] General Secretary. His appointment is effective 1st May 2021," the statement reads.
The appointment of Nyirenda comes days after Bullets Vice-President Fleetwood Haiya told the press that they would unveil a CEO.
Nyirenda has replaced Escort Chinula who was serving as acting CEO.
"We are hiring a full time CEO as one way of meeting our targets of turning Bullets into a real commercial entity. The current CEO is working in an acting capacity and we saw it necessary to have someone working on a full-time basis," he told The Daily Times.
Nyirenda was, until recently, based in South Africa where he was working at Cosafa Head Office in Johannesburg.
He joined Cosafa some four years ago from FAM.
Nyirenda had served as FAM administration manager before being promoted to the post of CEO.
In Bullets, Nyirenda has joined Malawi's most successful club which is among the first to go truly professional in Malawi.
Bullets are record 14-time league champions and command probably the biggest following estimated at six million.
The Blantyre giants enjoy among the most lucrative domestic club sponsorships, courtesy of cigarette manufacturers, Nyasa Manufactuing Company.
The coach for Bullets is former Zimbabwe's Warriors mentor Callisto Pasuwa.