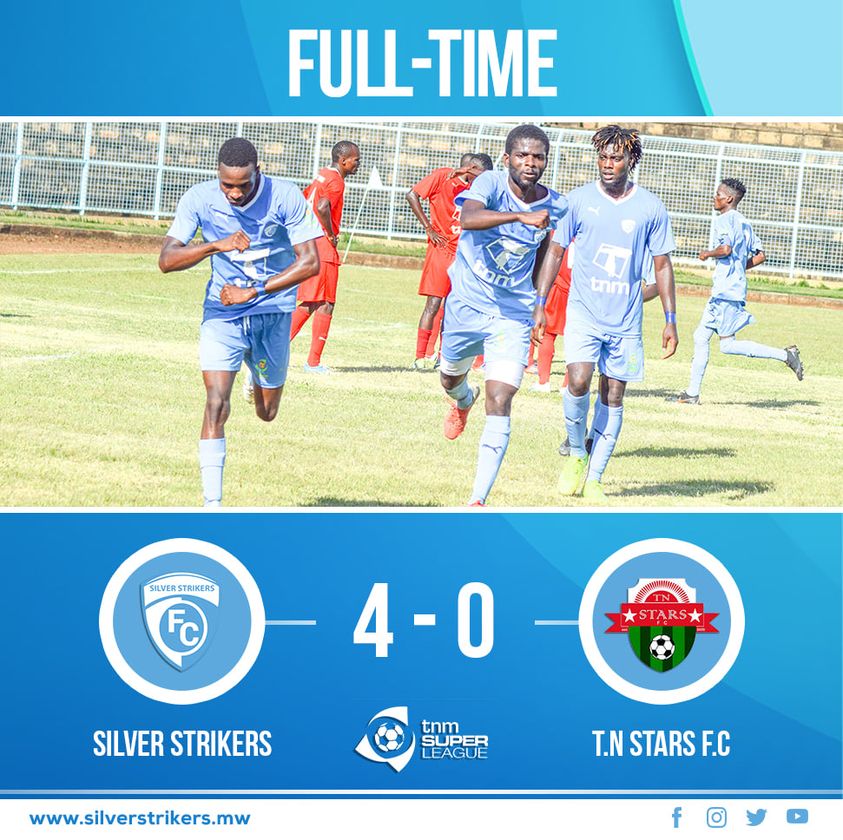 Leaders Silver Strikers FC wasted an opportunity to go 10 points clear at the summit of the TNM Super League log table after a goalless draw against Mighty Tigers in Lilongwe on Sunday.
Nonetheless, the Zambian Dan Kabwe-coached Silver lead the 16-member table with 32 points from 14 games.
Silver are six points in front of defending champions Nyasa Big Bullets who are mentored by former Zimbabwe coach Kallisto Pasuwa.
Down the table, Tigers anchor the standings with 10 points from 16 games after this brave away draw at Silver Stadium.
On Saturday, Bullets escaped from the jaws of defeat as they needed an own goal from Yunus Sherriff to earn a 1-1 draw against 10-man Be Forward Wanderers in an ill-tempered Blantyre derby.
Right-back Stanley Sanudi had put Wanderers ahead in the first-half at Kamuzu Stadium in front of some 250 fans, only for the Nomads to lose their cool and charge at assistant referee Bernadetter Kwimbira, questioning her decisions.
Wanderers defender Ted Sumani received a red card and Bullets soon crawled their back into the game via the OG.
Soon violence reared its ugly head and the game was called off with 10 minutes to full-time.
Bullets have since released a statement commending their fans for remaining calm.
"Despite the game ending prematurely due to some scenes of hooliganism perpetrated by some spectators, our supporters were not provoked in any way but continued to cheer their beloved team.
"The Club would like to encourage them to remain disciplined and always exercise restraint amidst any temptations of provocation," the statement reads.
Earlier, Wanderers said they were concerned by the standard of officiation and urged the authorities to act.
Wanderers are on ninth place with 18 points from 13 games.
Elsewhere, Moyale Barracks resurgence continued to six consecutive wins after they beat Red Lions 2-0 with Crispin Fukizi and Robert Mphenzi on target.
Moyale have now hit top form under recalled coach Nicholas Mhango, jumping from 10th to sixth place on 21 points from 14 games.
In another match, fourth-placed Ekwendeni Hammers ended their losing run when they beat Ntopwa FC 3-1.
Chawanangwa Gumbo scored twice with the other goal coming from Clever Kayira whereas Ellard Chagwetsa scored Ntopwa's face-saver at Mzuzu Stadium in the Northern Region.
It was a weekend to forget for Ntopwa who also lost 2-1 to fellow strugglers Mzuzu Warriors on Saturday in Mzuzu.