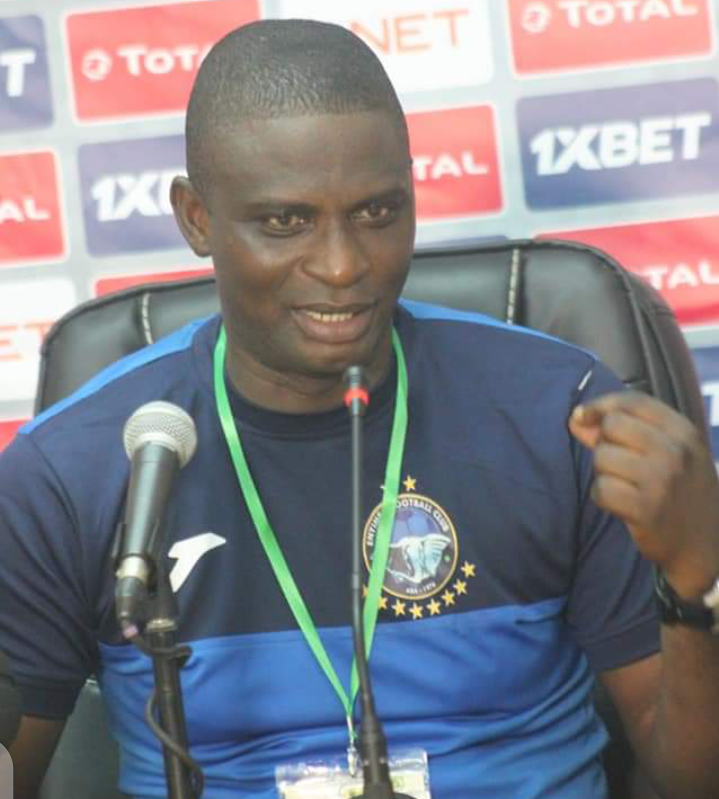 Enyimba FC head coach has said the tight schedule is already taking a tool on his players after Wednesday's 2-2 draw against FC IfeanyiUbah.
After losing 1-0 to Rivers United last week, the People's Elephant were hoping to get their first league win in the Oriental derby.
A last gasp goal in the 90th minute by Imo Obot denied FC IfeanyiUbah the opportunity to runaway with the points.
Read Also:
---
After the game, Osho and Captain Austin Oladapo spoke on the performance alongside Rueben Bala who returned from a fourteen month injury and scored.
Osho commended his players for putting their best to share the points.
"We experienced a lot of tiredness and when you're tired you can't do much. 
"We tried to cope, I want to give a lot of commendation to the players for their ability to comebacck. It was so difficult. 
"The schedule has been so tight and anybody that is here will know that the legs were not there. 
The legs were out. They were at the mercy of the opponents because every time those ones went on quick play we couldn't really respond and that was the genesis of the whole problem.
"For the players who have crawled back and got this draw, we need to commend them.
"It's just unfortunate we've not rested for how many months now, when other NPFL teams are resting, taking good rest and getting the body ready, it's either we are on the road or playing somewhere. 
"It's not really an easy task at all."
On his part, skipper Oladapo noted that the game wasn't easy and the team were satisfied with the result.
"It wasn't an easy game for us. 
"We are not happy about the result, we wanted to win this match so that we would be able to move to fourth position but it's so unfortunate the game didn't turn out the way we wanted but we have to take it in good faith.
"I noticed a lot of fatigue in the team because my players were unable to move unlike before. 
"They were so static. Even when you hold the ball you are looking for who to pass the ball to. Everybody was just standing still which is not our style of play.
"So I think the fatigue in the team is telling on us now. I think we will get it right."
"The way we played in the last minute of the half, we knew we didn't want to lose that match, so that is what we told ourselves.
"We had to put up a good fight . 
"I will give Kudos to the boys. They showed a lot of character in the second half from coming from 2-0 down to 2-2. The second half was a bit fair to us.
"That game is behind us now. 
"What we need to do is get enough rest, come back on the pitch and see how the rest of the games go.
Bala who has been out of action since fourteen months marked his return with a goal in the 78th minute.
He said he was happy to be back in action and helped the team when it matters.
"It wasn't easy for me to see myself not playing active football. 
"It was really devastating, really worrying for me; so along the line I was thinking of giving up but I said to myself that I can't give up. 
"I needed to fight, so then I started praying, started working hard. 
"I am very, very happy I have recovered fully. 
"I am very, very happy I am back to the squad. I am very, very happy to play my first match of the season. 
"Over one year plus I didn't play active football so I just want to appreciate God for all the things he has done.
"Seeing myself playing in the second half and seeing myself playing well and scoring a goal is something that I am very happy about – something I'm very excited about."
With the result, Enyimba moved to 5th position on the league table with 31 points with two games at hand.