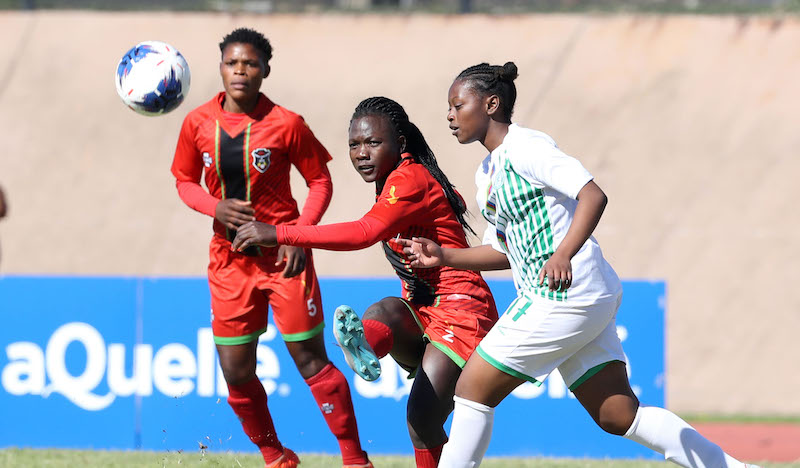 Malawi's Scorchers coach, McNebert Kazuwa, has named Zambia-based defenders, Chimwemwe Madise and Patricia Nyirenda, for next month's Women's Africa Cup of Nations (AFCON) qualifying match against Zambia's She-polopolo.
Kazuwa has summoned the Lusaka Dynamos FC duo alongside America-based striker Lughano Nyondo in the 30-member provisional squad to start camp training on May 16 2021.
Kazuwa has also included China-based Chawinga sisters, Temwa and Tabitha, in the squad ahead of the qualifying matches scheduled between 7 and 15 June 2021.
Earlier, Kazuwa said he was expecting a tough match against Zambia considering that Malawi beat the neighbours 1-0 in the last meeting at the regional Cosafa Championship held in South Africa last year.
"I know that they will prepare thoroughly for us and they will come for revenge, so we need to step up our preparations," he said.
Wuhan FC striker Temwa Chawinga scored the only goal for Malawi in the win over Zambia in November 2020.
Malawi's last involvement in the qualifiers was in the 2012 AFCON campaign and they lost 9-4 over two legs to Zambia.
Malawi has never qualified for AFCON finals, let alone World Cup finals.
Malawi are ranked 149 whereas Zambia is on 104 out of 167 teams in the world on the latest Fifa/Coca-Cola World Rankings.
Full Squad
Goalkeepers:
Samir Amidu (DD Sunshine), Ruth Mhango (U20), Mercy Sikelo (Ntopwa Super Queens), Memory Gama (Skippers).
Defenders:
Ruth Nyirongo, Tiwonge Phiri, Mphatso Gondwe (all DD Sunshine), Saliva January, Emily Jossam (all Ntopwa Super Queens), Moreen Phiri (CY), Chimwemwe Madise,Patricia Nyirenda (Lusaka Dynamos).
Midfielders:
Zainab Kapanda (BT Zero), Sabinah Thom, Funny Mwale, Madyina Nguluwe, Wezzie Mvula, Carolyn Mathyola, Fanny Mwale (all DD Sunshine FC), Grace Yotamu (Ntopwa), Zein Dude, Jessie Joseph (Skippers), Rose Kabzele (Ascent Academy), Chikondi Gondwe (CY), Lughano Nyondo (Indian Mountain School, USA)
Strikers:
Asimenye Simwaka (Topik), Fazira Chiyembekeza (Skippers FC), Yamikani Mhango, Mary Chavinda (Blantyre Zero FC), Temwa, Tabitha Chawinga (Wuhan FC, China).
Ends