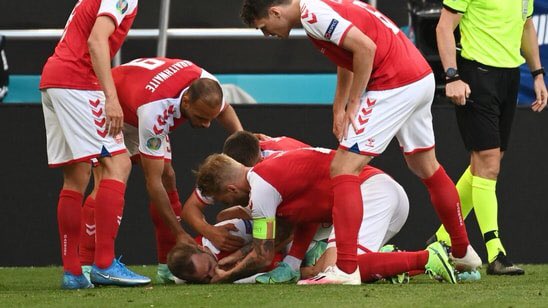 UEFA President Aleksander Ceferin lead the football comity to wish Christian Eriksen a quick recovery after he collapsed on the pitch.
The unpleasant scenario caused the game to be suspended as the Inter Milan player was rushed to the hospital.
Immediately the incident occurred and when he was rushed to the hospital, goodwill messages saturated the social media with football lovers and football associations across the world wished the player 'Quick recovery'
Ceferin in a statement said;
 "Moments like this put everything in life into perspective.  I wish Christian a full and speedy recovery and pray his family has strength and faith
"At these times, the unity of the football family is so strong and he and his family carry with them the good wishes and prayers of everyone. 
"I heard of fans of both teams chanting his name. Football is beautiful and Christian plays it beautifully." 
AfricaTopSport put together some goodwill messages for the former Tottenham player as he has been confirmed responding to treatment.
Goodwill messages to Christian Eriksen