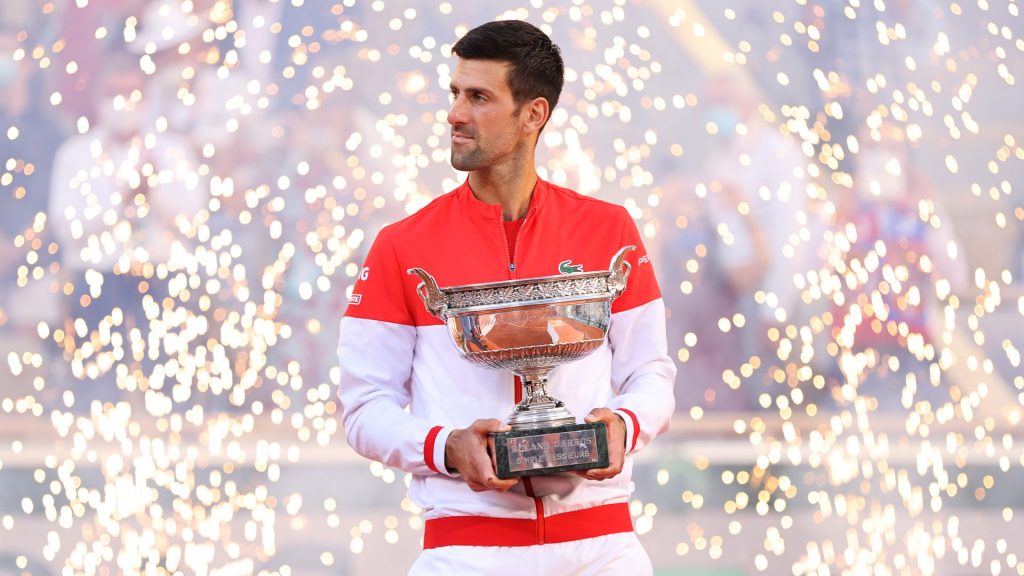 Novak Djokovic stunned Stefanos Tsitsipas 6 6-7(6), 2-6, 6-3, 6-2, 6-4 to win this year's Roland-Garros and became the first man in the Open Era to win each of the four Grand Slam titles at least twice.
After bouncing back to edge Rafael Nadal in the semi-final on Friday, Djokovic produced yet another impressive performance to defeat Tsitsipas on Sunday.
The Serbian rallied back from two sets down for the second time this fortnight – and sixth time in his career – to overcome the 22-year-old Tsitsipas and secure a second Roland-Garros crown, five years after he captured his first.
The world No.1 has clinched a 19th major title, which puts him just one adrift of the men's all-time record-holders Roger Federer and Rafael Nadal, who currently top the leaderboard with 20 each.
Sunday was a rematch of last year's Roland-Garros semi-final, which was also won by Djokovic in five sets over the Greek.
He fended off two break points in his opening service game, as Tsitsipas stepped up and found his groove.
Djokovic was impeccable on serve early on, and didn't drop a point on serve through the first seven games of the contest, although he did take a tumble while trying to run down a drop shot in game seven.
Tsitsipas found an opening in the 10th game, getting his first break point on a mis-hit from Djokovic, but the Serb saved the set point to hold for 5-5.
It was the top seed who broke first, but he couldn't serve out the set as Tsitsipas struck right back to force a tiebreak.
The 22-year-old opened up a 4-0 gap in the breaker but Djokovic rallied and held set point at 6-5 only for Tsitsipas to fire a winner that earned an applause from the world No.1.
The young Greek wrapped up the set two points later on the 68-minute mark.
Source:Roland Garros