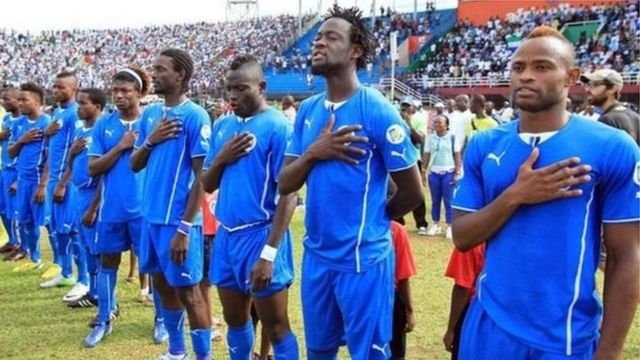 Sierra Leone have qualified to the Total Energies Africa Cup of Nations for the first time after 25 years following a 1-0 win against Benin Republic.
The Leone Stars who last played in the continental competition hosted by South Africa in 1996 became the last team to join the train to Cameroon 2021.
After issues that marred the AFCON 2021 qualifiers between both teams, CAF rescheduled to game on Tuesday at the General Lassana Conte Stadium in Conakry Guinea.
Both teams were fighting for the remaining Group L ticket after the Super Eagles of Nigeria finished as group leaders with 14 points.
The Squirrels of Benin needed just a draw to reach Cameroon 2021 having placed second before the game.
However, Key Ansu Kamara's 18th minute goal proved to be the only thing the Leone Stars needed to get their ticket leaving Benin to rue their loss.
The Leone Stars finished second in Group L with seven points behind leaders Nigeria (14 points). Benin had the same number of points (seven) and both sides had the same head-to-head results (each winning 1-0 at home), but Sierra Leone qualified on better goal difference (0 compared to Benin -1).
Back home in Sierra Leone, theere's been a widespread celebration across the country over their qualification.