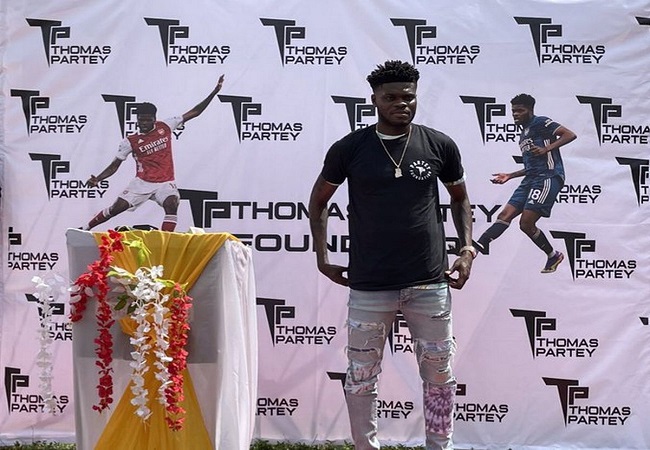 Arsenal midfielder Thomas Partey has launched his own foundation. A project that aims at creating opportunities for underprivileged youngsters in his native Ghana.
The 28-year-old was joined by friends and family at the launch in Somanya, where he will look to assist the community with amenities and opportunities through different projects and activities.
Partey joined the Gunners in a deal worth £45million from Atletico Madrid last summer. And he is currently back in Ghana where he recently celebrated his 28th birthday.
"It's about helping the young ones. Trying to get them some opportunities so they can show their talent." Partey told football.london via journalist Nana Aba Asamoah.
"They will play for every team: United, Arsenal, Atletico and Liverpool." Joked Partey when asked if his foundation will produce Premier League players.
Partey spoke to Ghanaian media on Monday about his debut season at Arsenal, admitting that it didn't go as well as he wanted it to.
"I think everybody has seen it, up and downs. We had good times and bad times. But you know, this is my first season. And I think I had to adapt to how they play, get used to my mates. And I think now I'm getting used to them and I know with hard work, everything will be okay for the next season." Partey told TV3.
The summer window is officially open, and it's going to be tough to keep up with the comings and goings in and out of the Emirates.
"It's not easy, that's one of the best leagues in the world and if you want to be there, you have to be able to do everything well. So I like this challenge. And I'm ready to do everything." He added.