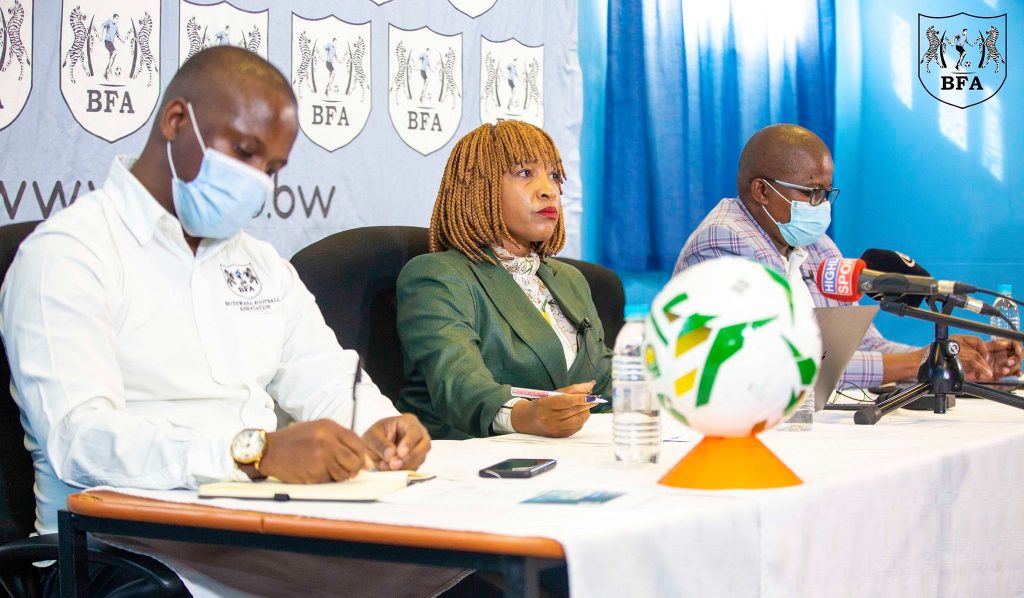 The 2021/22 domestic football season in Botswana will run from August 28 2021 to May 29 2022, the football association has confirmed.
To prepare for the kick-off, Botswana Football Association (BFA) last week on Friday hosted a virtual media briefing Lekidi Football Centre in Gaborone.
The media briefing attracted BFA Chief Executive Officer (CEO), Goabaone Taylor, Head of Competitions, Setete Phuthego, Dr. Lone Bagwasi, BFA Legal, Pako Moakofhi and Botswana Football League (BFL) CEO, Solomon Ramochotlhwane.
The meeting follows Botswana Government's announcement allowing for the resumption of competitive sports many months after its suspension due to the Covid-19 pandemic.   
Taylor told the gathering that BFA has adopted a phased approach for the football return.
Under such an approach, national team and top-tier clubs' training sessions are scheduled to start from June 14, 2021.
Taylor said from June 28, 2021, all First Division leagues, RFA, Women Football will be allowed to resume training.
"We are happy for the recent announcement allowing for competitive sports, particularly football to resume play. The BFA is ready, and all our 17 regions are going to be trained effective 24 June to 3rd July to align accordingly with our Return to play plan. During this time, there will also be an appointment and training of compliance officers," BFA website quotes Taylor saying.
However, friendly matches and pre-season tournaments will not be allowed at this phase.

She noted that pre-competition medical assessment of not more than 2-weeks prior to competitive football will be compulsory.