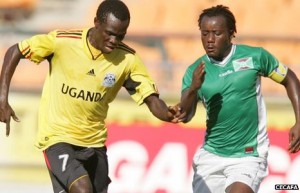 The kick-off Cecafa Senior Challenge Cup has been pushed forward by two weeks.
The Council of East and Central Africa Football Associations (Cecafa) Executive Director, Auka Gecheo, said the tournament will now kick off on July 17 2021 in Ethiopia.
Earlier, the competition was scheduled to start from July 3 to 18 2021.
However, Gecheo said member associations resolved to push the dates forward due to some challenges.
"But following a meeting that took place today and also attended by seven General Secretaries from CECAFA Member Associations via zoom, it was decided that the competition is postponed by two weeks," Gecheo said in a statement.
"The change was necessitated by some Member Associations having their countries go into lockdown due to Covid-19 and are struggling to get government approaval to trave to the event."
He cited South Sudan as among the countries that had a genuine cause that necessitated the shift.
"The change was also made because the South Sudan technical bench and some of their players are currently being quarantined in Doha, Qatar after attending the Arab Fifa Cup and will only travel on the 7th of July, while the League in Tanzania is also still ongoing and will be completed on the 18th July 2021 with some players only being available to travel after it is complete," he said.
Cecafa has since resolved that participants should feature under-23 teams in the tournament plus at least three overaged players.
"Cecafa has stated that all players of the teams must have been born on or after 1st, January 1998 and the lower limit must be at least 18 years by the end of the calendar year in which the competition is played," Cecafa statement reads.
"In case a member association has fielded more than three over age players, that player shall be disqualified and not replaced, while the team could face disqualification, a ban or asked to pay a fine."
Ethiopia will host the tournament in Bahir Dar.
Other teams expected at the event are the Democratic Republic of Congo, Uganda, Kenya, Tanzania, Eritrea, Djibouti, Sudan, South Sudan, Rwanda Burundi, Somalia and Zanzibar.