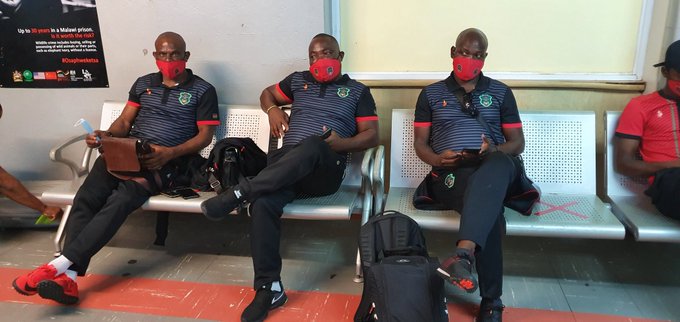 Nine players and an assistant coach Bob Mpinganjira for Malawi's Flames are doubtful for the forthcoming Cosafa Cup.
Football Association of Malawi (FAM) has confirmed that Mpinganjira, goalkeeper Brighton Munthali, midfielder Chikondi Kamanga, striker Stain Dave (Silver Strikers), Nyasa Big Bullets' defender Gomezgani Chirwa, Yamikani Chester, Peter Cholopi (Mighty Wanderers), Anthony Mfune (Karonga United), Blue Eagles striker Gaddie Chirwa and Mafco's Paul Ndlobvu have tested positive.
FAM Competitions and Communication Director, Gomezgani Zakazaka, has since said the players and Mpinganjira have been excused from camp training underway at Mpira Village in Blantyre.
The players and Mpinganjira are asymptomatic and are in quarantine, Zakazaka added.
"All the players and officials underwent PCR tests while at home and those that tested negative are the ones that have gone into camp.
"We will be following up with all the positive cases to see who will recover in time for the trip to COSAFA. It is a big blow but we will have to work with the players that are available and no new players will be called into camp," Zakazaka told FAM website.
The Flames head coach Meke Mwase also tested positive for Covid-19 two weeks ago alongside co-assistant coach Lovemore Fazili and Cholopi.
Fazili has since recovered and is in charge of training.
However, Mwase is yet to be cleared ahead of the tournament scheduled for Port Elizabeth in South Africa from July 6.
Despite testing positive, Cholopi has been travelling with his club Wanderers in recent domestic games.
The Flames leave for South Africa on July 4 2020 for the Group B clashes against Zambia, Madagascar and Comoros Islands.