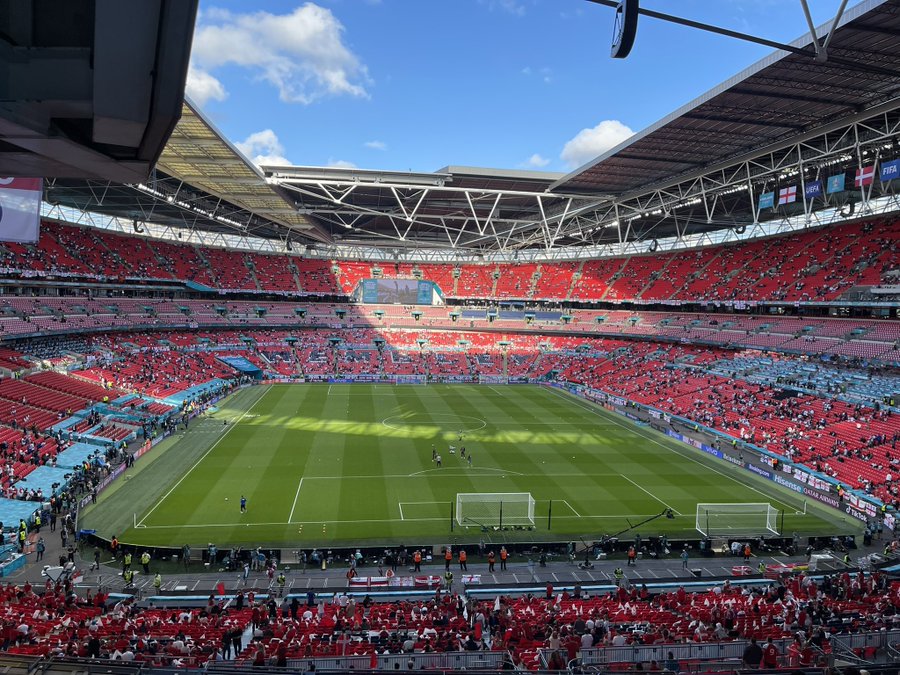 The first-half of the much anticipated Euro2020 semifinal clash between England and Denmark has produced thrills with scores at 1-1 to leave packed Wembley Stadium on its feet.
Scoring chances were plenty on both ends in front of vocal partisan 60,000 crowd in this Thriller of Wembley.
In the 14th minute, Harry Kane received the ball outside the edge of the box before volleying over the bar minutes after Raheem Sterling had sent a shot weakly straight at goalkeeper Kasper Schemichel's palms.
In response, Denmark midfielder Pierre-Emile Hojbjerg reacted the fastest to take a long range shot which England goalkeeper Jordan Pickford tamed.
Thereafter, as the Dane pressed high up the pitch, the England keeper nearly gifted the visitors a goal through an ill-timed goal-kick which was intercepted before striker Martin Braithwaite flashed his sharp effort wide.
Denmark threatened again in the 34th minute when Jannik Vestergaard won the ball off the feet of Kane then passed to Jannik Vestergaard who could not locate the target cleanly. England survived again.
However, Denmark were not going be stopped on the half-hour mark when Damsgaard scored via a delightful free-kick which sailed over jumping England wall, with Kane at the tip of the rising pyramid, then dipped just above and wide of desperately flying Pickford.
England thought they had replied in the 37th minute but Schmeichel spread himself big to deny Sterling from point blank range in stunning fashion.
A minutes later, the Three Lions roared back into the contest when Sterling bundled the ball across the goal line with his heel in between Denmark skipper Simon Kjaer's legs which could do nothing to cut Saka's hard and low cut back from the right corner in a blistering counterattack.
From then on it was game on.