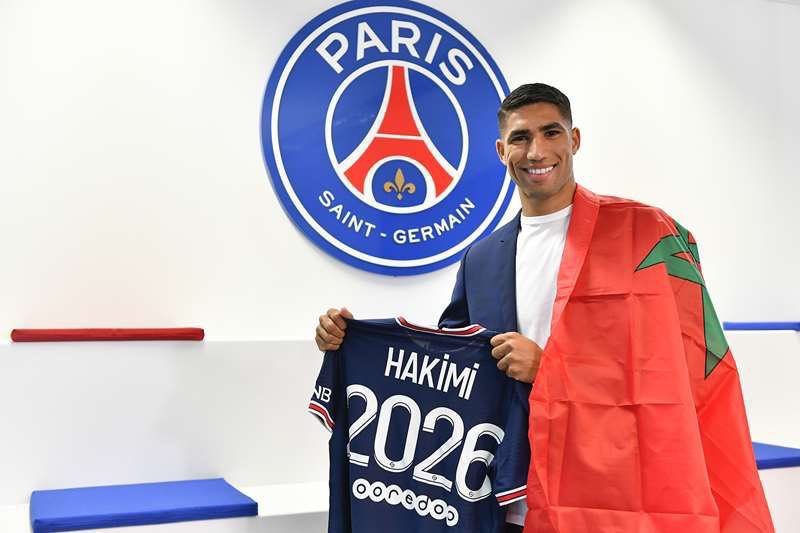 Paris Saint-Germain new signing Achraf Hakimi is optimistic his move to the French giants side will help him to reach the echelon of his football career.
Hakimi joined PSG on a 5-year deal from Inter Milan for a fee of around  €70m.
The Moroccan in an interview with PSG TV said he was delighted to join the club and also revealed how his move will help the club to win more title.
"I'm happy to be here, I can't wait to take the next step, I can't wait to get started,
to meet my teammates and to be able to do great things here.
"PSG is a great club and they
have shown it in recent years, by improving constantly. 
"From my point of view,  I want to continue building something great and reach the very top.  
"That's possible here. , c'est possible. My opinion of the club is above all the fantastic players that are here and obviously big players want to come to a great club like Paris. 
"So I'm happy to be here and to be part of the team.
Asked how he will describe himself as a player, the former Real Madrid player said he is an attack minded defender.
"The truth is that I'm a defender with the mind of a striker! I like to contribute to the attack, be in attacking areas and I think that here there are great players
who will be able to help me. 
"And above all that I can help the team achieve its goals. 
"I have to help the team with my qualities and put them at the team's disposal, to help it and achieve what we all want, to reach all the goals. 
"In defence, I can play in a back 3, 5, 4, 2. Whatever the coach needs. 
"I'm at his and the team's disposal."