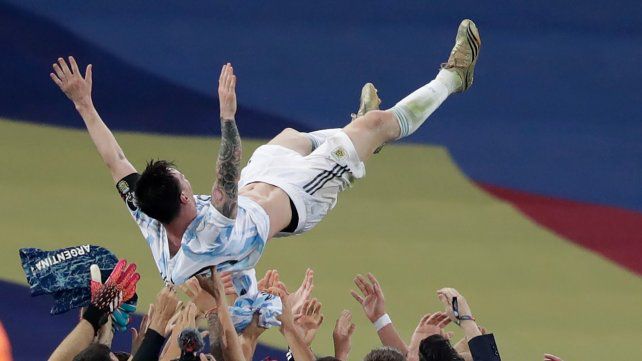 Celebrations have erupted in Argentina, especially in Lionel Messi's home town of Rosario, following the Copa America triumph on Sunday morning.
The Barcelona star captained Argentina to a 1-0 win over Brazil at Maracana Stadium to end the country's 28-year wait for a major honour trophy and with it, earn Messi his first major silverware in the national team colours.
To celebrate the triumph, La Prensa newspaper of Argentina wrote a front page headline reading: And one day Messi took off his mufa and lifted the Cup with the Albiceleste.
The newspaper added: "Lionel Messi never gave up . He had to fight a lot and wait to lift a Cup with Argentina, until one day it happened the way he dreamed of. Nothing less than against Brazil, in their land and in the historic Maracana."
The newspaper further quoted a group of young men who stormed the streets of Rosario to celebrate the triumph.
"All I wanted is for Messi to be happy," one of the boys told the newspaper.
Rosario celebrated more considering that the lone goal scorer Ángel Di Maria and Messi are both from the town.
"Another unavoidable name flew over Rosario, Argentina, the Maracana dressing room and the whole world. More present than ever, the crowd chanted the name of Diego Armando Maradona at dawn this Sunday and did not forget for a second the most Argentinian of Argentines," the newspaper reported.
Meanwhile, Messi's wife Antonela Roccuzzo , has sent his husband a congratulatory message via tweeter saying:
"… I can't wait to see you and celebrate together !!!!!!! @leomessi". "
"CHAMPIONS !!!!!! VAMOOOOS ARGENTINA !!! Come on my love !!!! Come on !!! What you dreamed thisooo for Diosss finally gave you! As you deserve it I can't wait to see you and celebrate togetherooos !!!!!!! @leomessi."
Deservingly, Messi also won Player of the Tournament and Top Scorer award for the Copa America.
The forward also provided most assists of the competition.
It was Argentina's first title in 28 years and a record equaling 15 Copa America title at par with Uruguay.