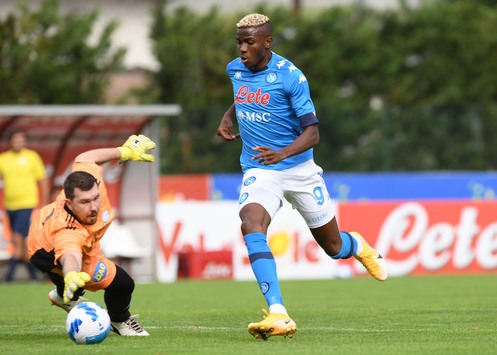 Victor Osimhen led the onslaught as Napoli demolished Bassa Anaunia 12-0 in their first friendly match of the season innDimaro Folgarida.
Osimhem scored four goals as the Naples intensified preparation ahead of the 2021/2022 Serie A season under Spalletti.
Napoli got things going just three minutes of action as Elmas broke the deadlock from a Politano assist.
Then Osimhen became the protagonist as he doubled the lead in the 8th minute from with Politano providing the assist again.
Manola made it 3-0 in the 15th minute before Osimhen scored the his brace and extended the scoreline to 4-0.
In the 35th minute, Osimhen took out Anaunia goalkeeper with a double faint and put the nail inside the net for his hat trick of the game.
Two minutes later, the
Unrestrainable Osimhen collected a rebound from the goalkeeper and scores in a slip and his fourth in the game to out the game beyond reach with the scoreline at 6-0.
Lobotka, Tutino, Palmiero, Ciciretti, Machach and
Petagna all found their names on the score.
Osimhen and his teammates coach will return to action for the second friendly match scheduled for Saturday 24 July against Pro Vercelli.