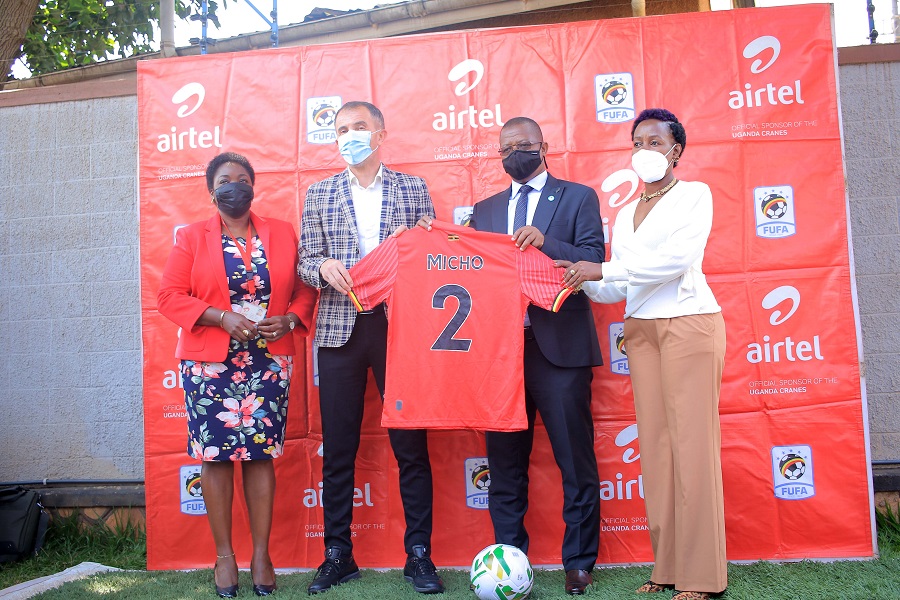 Serbian coach Milutin 'Micho' Sredojević has made an emotional return to Uganda's Cranes job by apologizing to the country's soccer fraternity for 'whatever negative' that might have happened.
He has returned to Uganda four years after his acrimonious resignation from the coaching job.
Little wonder after his unveiling, Fufa website quotes Micho saying: "It is an emotional time to return to Uganda. Greetings to every single Ugandan with a highest degree of respect. Whatever negative, I would like to apologize –I was at crossroads; one of wounded soul and economic value. I was born in Serbia but football wise born in Uganda. I was part of the football revolution since my earlier times," he said.
He made the remarks today, Tuesday, during his unveiling ceremony held at Federation of Uganda Football Associations FUFA headquarters in Mengo, Kampala.
He has penned a three-year contract barely a month after his sacking in Zambia as Chipolopolo's mentor following a string of uninspiring results.
Micho, who has also coached in Tanzania (Yanga), Ethiopia (Saint George FC), Egypt (Zamalek) and South Africa (Orlando Pirates, branded Uganda as his second home after Serbia.
"My journey of African football studies started here in Uganda. I have learnt a lot. I am a much improved version of a coach. 256 GB, now I am in Tellabyts," Micho added.
He returns with fond memories four years after steering the Cranes to their first-ever Africa Cup of Nations finals in 38 years.
However, Micho's spells in South Africa, Egypt and of late, Zambia were less successful.
Micho has replaced caretaker coaches, Charles Livingstone Mbabazi and Abdallah Mubiru, who failed to guide the Cranes to the next Afcon scheduled for Cameroon.
The caretaker coaches took charges following Fufa's shock sacking of Johnathan McKinstry.
Micho has since promised to revamp the Cranes who are in transition following the retirement of regulars such as goalkeeper Denis Onyango.
"I will give particular attention to details; build attack and consolidate on the solid defence. I want to pay back with fanatic hard work. I am here serve, deliver and give back to the people. I am working to see that Uganda is back in the top five of African football. I am a supporter and coach of Uganda Cranes. I am coming with a network of friends including the FIFA President and CAF President," he said.
Micho has since named Livingstone Mbabazi as his first assistant and Fred Kajoba as goal keeping coach.
Fufa president Moses Hassim Magogo, who unveiled the coach alongside Third vice president Owek. Florence Nakiwala Kiyingi and Airtel Brand & Communication manager Remmy Kisakye, said it was the aspiration of the association to see the Cranes qualifying for the World Cup.
" Ugandans today are very satisfied with qualification to AFCON. We need more and the objective is to qualify for the FIFA World Cup 2026. A football fan wants more. It does not come overnight. You need time and experience. I ask Ugandans to be very, very patient since we are in a transition. Many of our key players are past their prime, it is a reality of life. We need to generate positive energy, we need to change our focus and strategy," he said.
"…It was decision of the Executive Committee to appoint Micho. It has been a big hunt to look for the coach. We create relationships with the football stakeholders. We believe that Micho is much better than he left. He finds a better federation that the one he left."
Magogo's remarks are not surprising as Micho quit Uganda coaching job in July 2017 claiming Fufa had not paid him for six months.