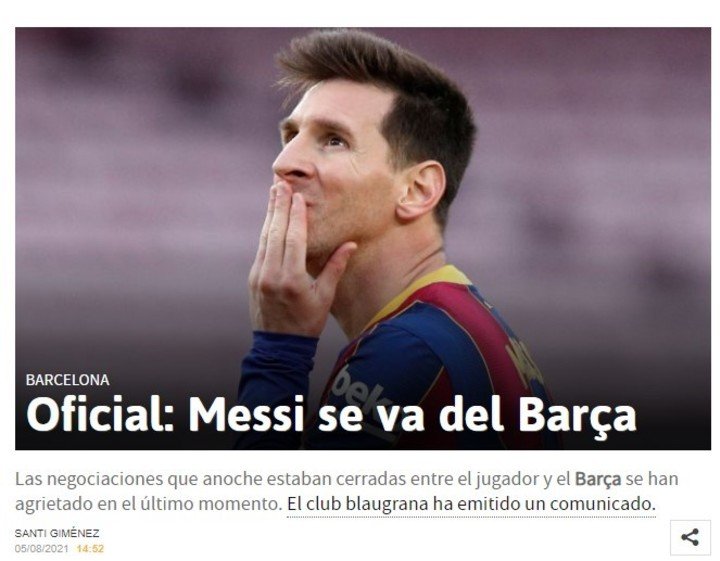 The world's sports media has given a shock reaction to the bombshell that Lionel Messi's romance with Barcelona has ended.
Spanish leading newspaper El Mundo greeted the news with a headline reading: "Leo Messi closes his stage in Barcelona."
In its introduction, the newspaper wrote: "It's over. At least that is what the Barça club itself has announced this Thursday, August 5, ten days before the start of the League, that the Argentine will not renew his contract."
Back home in Argentina, Lanacion newspaper also reacted to the news that their football icon had exited Barcelona with utter shock.
The newspaper's front page headline screamed: "Unexpected turn. Lionel Messi leaves Barcelona: a bomb that shakes world football."
Another newspaper in Argentina Clarin opted to project to the future with a headline titled: "After leaving Barcelona will PSG be Messi's new club?"
Clarin's other headline on Messi's story read: "Bomb in Spain."
The story was accompanied by a picture of Messi and Angel Di Maria of PSG and Argentina national team mate.
O Globo newspaper of Brazil also suggested that Messi could be heading for PSG: "Messi leaves Barcelona: City and PSG are possible destinations for the Argentine ace."
Reacting on his own Twitter account, Julio Maldonado, of Spain wrote: "It's a very hard hit to the league and to Barcelona obviously."
Messi is considered one of the greatest players of all time and spent his entire professional football career with the Spanish side, breaking almost all records for La Liga and the club.