FIFA president Gianni Infantino has met Saudi Arabia's Crown Prince Mohammed bin Salman on Tuesday. He was with the president of the Confederation of African Football (CAF) Patrice Motsepe "to discuss sports cooperation with FIFA, CAF."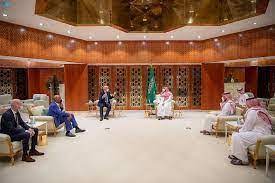 Even during a global pandemic, the FIFA supremo has maintained a penchant for globe-trotting after attending the Concacaf congress in Miami, the Copa America final in Rio de Janeiro, the Euro 2020 final in London, the Gold Cup final in Las Vegas, the Olympic football tournament in Tokyo and on Tuesday, Infantino was in Riyadh to meet Mohammed bin Salman in what a press release described as an opportunity "to review areas of sports cooperation with FIFA and CAF."
Saudi minister of sports Prince Abdul Aziz bin Turki Al-Faisal, Saudi Arabian Football Federation (SAFF) president Yasser Al-Mashal and FIFA's deputy secretary-general Mattias Grafström also attended the meeting.
Infantino's surprise visit fuelled speculation that FIFA and Infantino are on the case of a biennial World Cup again, an idea that was mooted by SAFF at the FIFA congress in May.
A feasibility study is under way. And CAF has thrown its weight behind the idea following an executive committee meeting last month in Morocco. The Saudi proposal dovetails with Infantino's expansionist vision of the game.
The FIFA boss has long nurtured a relationship with Saudi Arabia, courting the Kingdom repeatedly. His proposal for a $25 billion sell off FIFA competitions to Saudi-backed Softbank was shot down by his own Council. The Zurich supremo has also met on various occasions with Saudi strongman Mohammed bin Salman. However, last January, Amnesty was critical of the FIFA leader starring in a Saudi PR video.