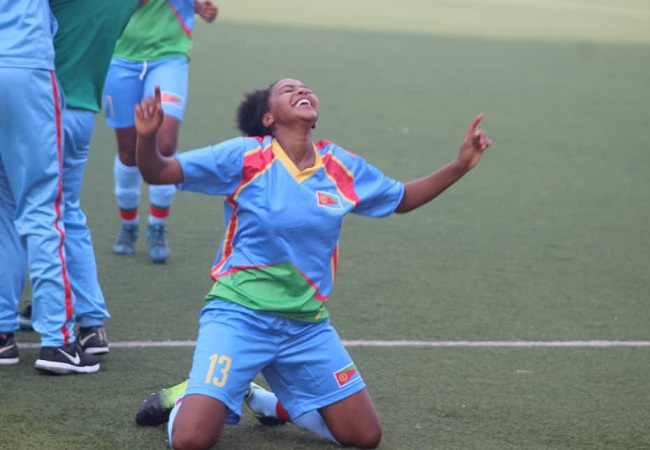 Eritrea thrushed Djibouti 3-0 in the return leg that took place on Wednesday at the Abebe Bikila Stadium in Addis Ababa, Ethiopia. The Eritrean team thus qualified on a 6-1 goal aggregate.
The two legs were played on a neutral ground in Ethiopia. Eritrea won the first leg 3-1 on Sunday, before picking a 3-0 win with Diana Estifanos netting a brace and Misgana Mehari scoring the other goal.
"I am happy to score two goals that have helped my team qualify for the next stage." Said Estifanos after the game watched by a fair crowd.
Eritrea will face Tanzania in the second round of the qualifiers that also have Kenya battling Uganda in another clash of teams from the same CECAFA region.
Three more rounds reamain with two teams representing Africa in the 2022 FIFA U-20 Women's World Cup to take place in Costa Rica.
Exempted teams are the following :
Sierra Leone, Gambia, Namibia, Botswana, Burundi, Congo, Angola, Burkina Faso, Cameroon, Egypt, Ethiopia, Gabon, Ghana, Guinea, Kenya, Malawi, Morocco, Nigeria, Senegal, South Africa, Tanzania, Uganda, Zambia, Guinea – Bissau
First Round Results
1st Leg: Djibouti 1-3 Eritrea
2nd Leg: Eritrea 3-0 Djibouti
1st Leg: Eswatini 0-0 Mozambique
2nd Leg: Mozambique vs Eswatini (21 August)
1st Leg: Niger 1-6 Benin
2nd Leg: Benin vs. Niger (21 August)
1st Leg: DR Congo 5-1 Sao Tome e Principe
2nd Leg: Sao Tome e Principe vs. DR Congo (21 August)
*Rwanda is qualified for the next round following the withdrawal of South Sudan
*Mauritania is qualified for the next round following the withdrawal of Tunisia
*Mali is qualified for the next round following the withdrawal of Togo
*Central African Republic is qualified for the next round following the withdrawal of Equatorial Guinea