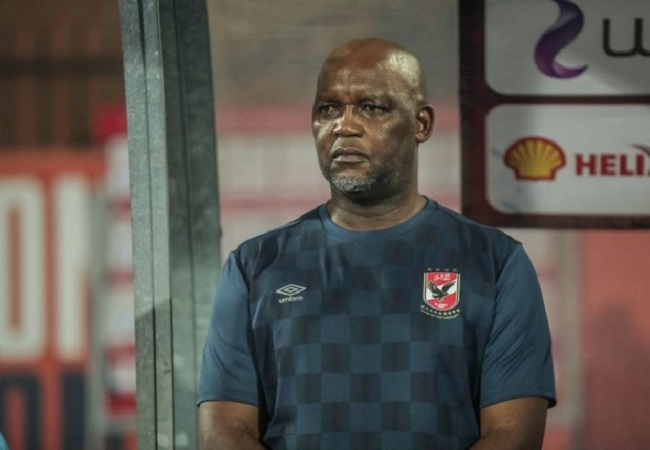 Al Ahly failed to keep the home league title surroundering it to arch rivals, Zamalek. And the Red Devils head coach Pitso Mosimane has opened up after losing the Egyptian Premier League title.
Read More : AL AHLY LOST EGYPTIAN PREMIER LEAGUE TITLE AFTER DISASTROUS GAME END AGAINST EL GOUNA
Mosimane could only watch on in agony as his side had to settle for a three-all draw against El Gouna. At the same time, Zamalek beat Entag El-Harby 2-0 to win the league title with one match to spare.
After the match, Mosimane conceded that fatigue played a role in his side losing out on the title. But he also highlighted where exactly it went wrong for the Red Eagles in terms of their tactics.
"We suffered a lot from fatigue during the previous period as we kept playing for 10 consecutive months. We won the bronze medal of the FIFA Club World Cup, the CAF Super Cup title, and two CAF Champions League titles. We are human beings. And it is normal to suffer from fatigue." He told the club's media.
"We conceded many goals during our last games. Especially while implementing a man-marking system. However, despite department committing these mistakes, we put on good performances and achieved great results."
Mosimane, who has received the backing of Ahly President Mahmoud El Khatib, also reflected on the incredible achievements his side managed in the 10 months that he has been in charge, while cowing to bounce back stronger in the new campaign.
"Al Ahly is a great team. We will turn the page and come back stronger.
"We accomplished many achievements in the last 10 months. We might have lost the Egyptian Premier League title. But we managed to achieve great things during the previous period." He said.
There are still a number of trophies up for grabs for Mosimane and his team in the form of the Egyptian Cup, the CAF Super Cup, as well as the Egyptian Super Cup.