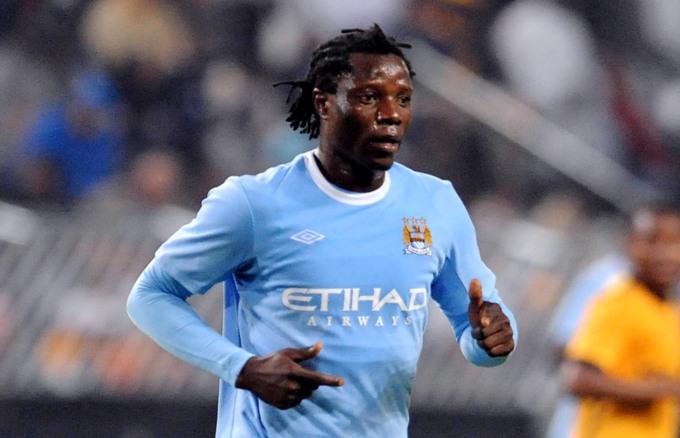 ZIMBABWE : Ex-Manchester City striker named Warriors assistant coach
Former Manchester City striker Benjan Mwaruwari has reportedly been appointed as an assistant coach for Zimbabwe's Warriors.
Media outlets have quoted a statement which Zimbabwe Football Association (ZIFA) confirming the hiring of the ex-Portsmouth FC forward.
"The Executive Committee received a progress report from the Technical and Development Committee with regards to all matches played in 2021. The Exco resolve that the technical teams will remain unchanged.
"The Exco further resolved to augment the Warriors' technical team by appointing Benjani Mwaruwari as an Assistant Coach. The appointment is with immediate effect," ZIFA's statement reads.
He had a successful career as a player having played for Blackburn Rovers and Sunderland (England), Jomo Cosmos (South Africa), Auxerre (France), FC Grasshoppers in Switzerland.
The 43-year-old joins Warrirors coach Zdravko Logarusic's backroom team that includes other assistant coaches Tonderayi Ndiraya and Lloyd Chitembwe.
Zimbabwe are taking part in the World Cup qualifiers and face South Africa and Ethiopia in the second round next month.
A 29-member squad has since been released for camp training ahead of the Group G matches.
The squad includes Marvelous Nakamba of Aston Villa but his availability is uncertain as clubs in the Premier League are against releasing players to home countries deemed as Covid-19 hotspots.
The FA for Zimbabwe hopes that Nakamba and other Europe-based players will avail themselves for the games.
"The Executive Committee was also notified that they were challenges in the release of players by some Clubs in the United Kingdom. The Association is making frantic efforts for these players to be released for national duty. We have been assured by FIFA that the global football governing body is firm in the interpretation and implementation of its decisions and rules.
"The release of the national team players is mandatory for all clubs for this September 2021 window. The clubs are fully aware of the FIFA regulations and the consequences of non-compliance with the applicable regulatory framework," ZIFA statement reads. H995ODCRfIC3AmgGy7zp19cqHnSKwFWXyOBgoUIo5YEiwtwYrzUCrT-beA3Ftk4zqPgE9VUJXb2e-JgH0-e%2CAGkb-H_JvgNlZkyNvxzGsz__nkWqRgXanQeuDFO-fXbMKaRS3iA3XJu2r0PxbuN878_nKgvh2fl7WTZzGw&pvsid=756363753827221&pem=828&ref=https%3A%2F%2Fwww.google.com%2F&eae=0&fc=896&brdim=0%2C0%2C0%2C0%2C1280%2C0%2C1280%2C680%2C1280%2C520&vis=1&rsz=%7C%7CeEbr%7C&abl=CS&pfx=0&fu=128&bc=31&ifi=6&uci=a!6&btvi=6&fsb=1&xpc=n4YtVvNwRx&p=https%3A//globalcirculate.com&dtd=M https://googleads.g.doubleclick.net/pagead/ads?client=ca-pub-4631183259507238&output=html&h=280&slotname=5011380180&adk=1430701619&adf=1316687504&pi=t.ma~as.5011380180&w=819&fwrn=4&fwrnh=100&lmt=1629967623&rafmt=1&psa=0&format=819×280&url=https%3A%2F%2Fglobalcirculate.com%2Fbenjani-mwaruwari-appointed-warriors-assistant-coach%2F&flash=0&fwr=0&fwrattr=true&rpe=1&resp_fmts=3&wgl=1&adsid=ChEI8PeciQYQoI7QiZrD_e-YARJFAJYEeaMIadb-wJqdCWuB5A_1rPcMlrQccuFQsRAyXt9oKm2mo7KMNiwqbFNCiYy10lYECh1UVG5yOzxBBA2DGJuoTrVJ&uach=WyJXaW5kb3dzIiwiMTAuMCIsIng4NiIsIiIsIjkyLjAuNDUxNS4xNTkiLFtdLG51bGwsbnVsbCxudWxsXQ..&tt_state=W3siaXNzdWVyT3JpZ2luIjoiaHR0cHM6Ly9hdHRlc3RhdGlvbi5hbmRyb2lkLmNvbSIsInN0YXRlIjo3fV0.&dt=1629966370788&bpp=1&bdt=12580&idt=9329&shv=r20210823&mjsv=m202108240101&ptt=9&saldr=aa&abxe=1&cookie=ID%3Dfd4dd1bf86e3dbce-2290fbd1b5c900f9%3AT%3D1629966379%3ART%3D1629966379%3AS%3DALNI_Mas4zp-T3woIAV3lgu02SzWEGnWFw&prev_fmts=1200×280%2C314x250%2C0x0%2C819x280%2C819x50%2C819x200%2C314x250%2C819x200%2C819x280&nras=1&correlator=5923460345418&frm=20&pv=1&ga_vid=906569235.1629966376&ga_sid=1629966378&ga_hid=1230760987&ga_fc=0&u_tz=120&u_his=5&u_java=0&u_h=720&u_w=1280&u_ah=680&u_aw=1280&u_cd=24&u_nplug=3&u_nmime=4&adx=33&ady=3454&biw=1263&bih=520&scr_x=0&scr_y=1405&eid=31062314%2C21067496%2C31062297%2C31062311&oid=3&psts=AGkb-H98FdDRvt9Wo_iNqQRTKV1t13lKBwQQdVsrBpAY9OZnX5_GVDDlaj96K0L2o3ZLRg1lKi5AqrhVOuBqQ7ti%2CAGkb-H995ODCRfIC3AmgGy7zp19cqHnSKwFWXyOBgoUIo5YEiwtwYrzUCrT-beA3Ftk4zqPgE9VUJXb2e-JgH0-e%2CAGkb-H_JvgNlZkyNvxzGsz__nkWqRgXanQeuDFO-fXbMKaRS3iA3XJu2r0PxbuN878_nKgvh2fl7WTZzGw&pvsid=756363753827221&pem=828&ref=https%3A%2F%2Fwww.google.com%2F&eae=0&fc=896&brdim=0%2C0%2C0%2C0%2C1280%2C0%2C1280%2C680%2C1280%2C520&vis=1&rsz=%7C%7CeEbr%7C&abl=CS&pfx=0&fu=128&bc=31&ifi=7&uci=a!7&btvi=7&fsb=1&xpc=xVGoUWVkVx&p=https%3A//globalcirculate.com&dtd=M