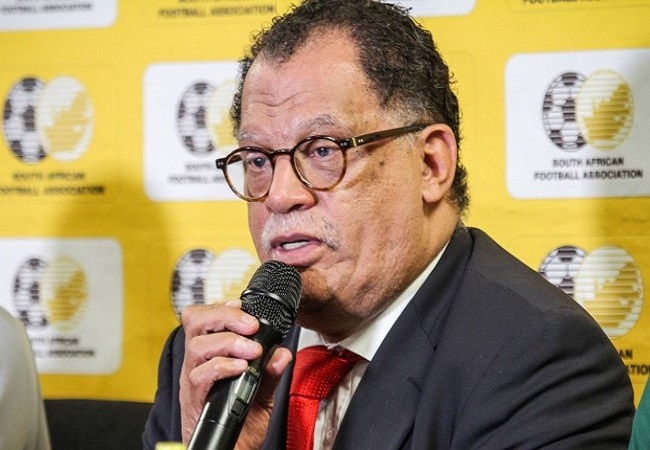 South Africa FA president, Danny Jordaan, in an interview with OnTime Sport, spoke about many matters regarding South African football and the South Africans plying their trade in Egypt.
The first question was regarding Al Ahly's new signing Percy Tau, who despite joining them nearly one month ago is yet to make his debut due to a hamstring injury.
Also Read :  PERCY TAU EXPECTED TO RETURN TO AL AHLY TRAINING VERY SOON
Asked about the possibility of Tau being called-up for the national team's upcoming training camp in early October, Joordan had this to say.
"We'll see what happens the coming days. And we'll have to wait to know the player's status." He confirmed.
Also read : AL AHLY REFUSE TO RELEASE PERCY TAU FOR INTERNATIONAL DUTY
South Africa are having a good run so far in the 2022 World Cup qualifiers under Belgian manager Hugo Broos. As they currently lead their group with four points. Ahead of the likes of Ghana, Ethiopia and Zimbabwe.
This explains why Jordaan immediately dismissed the possibility of Mosimane taking on the national team job anytime soon.
"I don't think he should be the manager of the South Africa national team. Instead, I support him on his mission to lead one of the best teams in Africa." He explained
"I don't think there is any contact with him to coach the national team." He stressed.
The Club World Cup was set to take place in Tokyo this winter for the first time since 2016 as the Japanese Football Association (JFA) had planned to host this year's competition as part of its 100th anniversary celebrations.
However, due to an extended emergency COVID-19 restrictions in Tokyo following a fifth wave of the virus, the JFA had to pull out of hosting the mini-tournament.
South Africa have now presented their bid in order to host the competition. But Jordaan says that it's no easy task.
"We have submitted a request to FIFA to organize the Club World Cup. And we are waiting for a response from them. The matter is not easy. And there are difficulties in light of the COVID-19 outbreak. There are several factors that must be considered." He explained.
Joordan also spoke about the Egypt national team newly-appointed manager, Carlos Queiroz, who was previously in charge of the Bafana Bafana in the early 2000s.
"He's a distinguished coach. And I expect a lot from him, as he's one of the few who have an actual on the clubs and national teams he coached." He continued.
"He reach the World Cup finals with South Africa and Iran, and won the Youth World Cup with Portugal. He has many achievements in countries around the world. And I expect that he lead Egypt to the World Cup." He concluded.