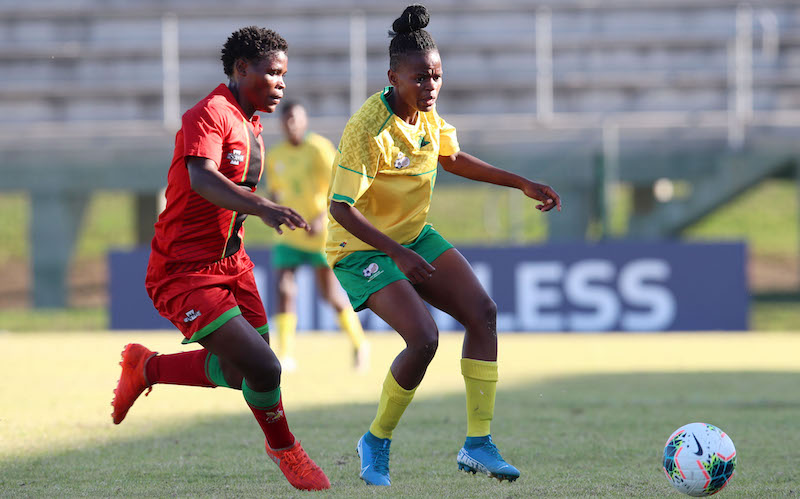 Malawi senior women's national football team caretaker coach Andrew Chikhosi has made a bold statement.
He fancies the Scorchers chances of beating Cosafa Women's Championship hosts and holders, South Africa for the first time ever.
The Scorchers are in Group A of the tournament alongside the newly-crowned Aisha Buhari Cup champions Banyana Banyana, neighbours Mozambique and Angola.
The championship is penciled for picturesque Port Elizabeth at Nelson Mandela Bay from September 28 to October 9 2021.
Malawi will open their dance against Banyana Banyana on September 28 2021 before facing Mozambique and Angola on October 1 and 4.
Some 12 teams have been split into three groups each comprising four with each pool's overall top team and best runners-up across the tournament advancing to the knock-out phase.
Patuma Tonex of Football Association of Malawi's Media and Communications Department posed questions to Chikhosi ahead of the Scorchers departure for South Africa on Saturday, September 25 2021.
How has been the training so far?
The training has been good since we started…we started with the conditioning of the players then we started with other technical aspects like team build up as of now I think the girls are ready for the games.
How do you rate the performance of the girls in training?
The performance so far has been good looking into that the girls have been playing in their regional leagues [and] I think their fitness has been good so the performance is good.
…Our first game is against South Africa but looking at history, in 2020 we lost 6-2 to them in the semifinals, in 2019 we lost 3-1 and in 2018 they beat us 6-0. This time around, what are you going to do to make sure that the team wins?
There is a saying that history teaches you a lot, so we have been beaten by South Africa maybe three or four times but we have learnt some two or three things which we have been working on with the girls. I think this time around, we will try our best because we have seen their style of play so we have got our plan. We want to beat them.
Last year, you reached the semifinals, what is your target this year?
In football, you can't tell, but each and every team is going there to grab the cup. We as, Malawians, are also going there to reach the finals and come back with the cup but you know in football, anything can happen but we are prepared not to participate but to compete.