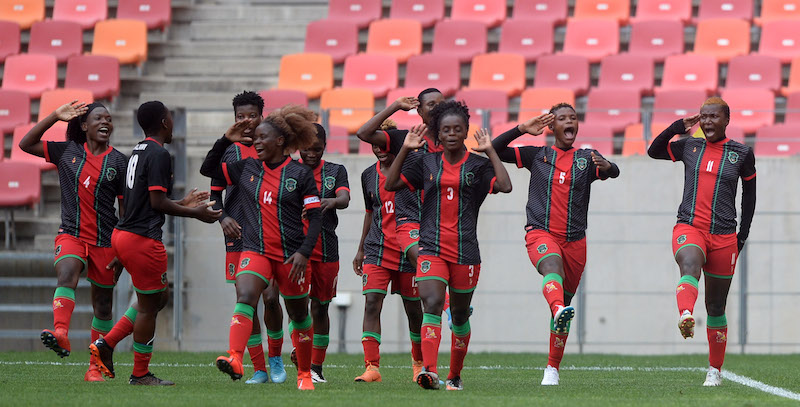 After enjoying a mesmerising performance by South African artist Makhadzi over the weekend, Malawians have another reason to dance again today.
After all, Malawi women's football team, the Scorchers, just defied all odds to stun Cosafa Women's Championship hosts and until hours ago holders, South Africa's Banyana Banyana 3-2.
While Makhadzi's energetic performance in Malawi's lakeshore district of Mangochi swept Malawians off their feet, it was vice-versa in this semi-final contest of Thursday.
At Nelson Mandela Bay Stadium in Port Elizabeth, it was Sabina Thom for Malawi who stole the stage wriggling and dribbling on the pitch to floor Banyana Banyana right in their backyard with a double.
Fazila Chembekezo scored the other goal as Malawi avenged the semifinal loss they suffered to Banyana Banyana last year.
Malawi date Tanzania in the final on Saturday. It is the first time the Scorchers have reached Cosafa final and arguably first the time to beat South Africa.
During the match, Malawi led three times before dispatching the Aisha Buhari Cup champions.
Chembekezo headed the ball into the net in the 38th minute before Banyana Banyan replied through Sibulele Holweni's long-range scorcher in the dying minutes of the opening half.
However, Thom had other ideas in the 73rd minute. She was granted space in the box and she never misses. She scored.
Unfortunaltely for Malawi, Holweni levelled matters again. This time around from the penalty spot in the 80th minute.
But Thom was not amused with this equalizing goal for South Africa. She scored her second to clinch it with five minutes to full-time.
There was no way back for South Africa who now have to fight for bronze against Zambia.
Earlier, Tanzania beat Zambia 3-2 on post-match penalties after the two teams could not be separated at 1-1 in regulation time in this semifinal contest.