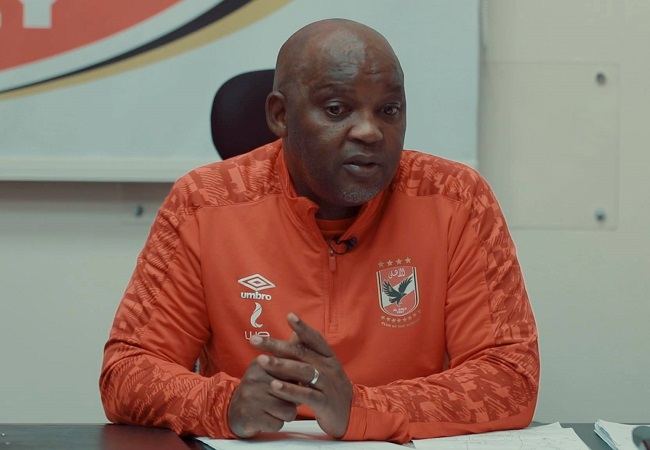 Al Ahly's coach Pitso Mosimane has promised the team's supporters that he is ready to snatch the African continental title for the third time in row next season.
Mosimane's promise comes ahead of Ahly's game on Saturday against Niger's Union Sportive de la Gendarmerie Nationale in the first leg of the 2022 African Champions League second preliminary round.
Under the helm of the 57-year-old South African tactician, Ahly claimed the last two editions of the Champions League title.
"I am very excited that our journey towards achieving the 3rd CAF Champions League title in a row starts on Saturday in Niger." Mosimane wrote on his official twitter account early on Thursday.
"We are focused on the prize ahead and ready to once again conquer the CAFCLCC tournament." The South African coach added.
The Ahly crew will fly to Niger on Thursday within preparations for the away game that will be played at Stade Général Senyi Kountche stadium. The second leg game will be played at Ahly stadium on 23 October.
Mosimane's future with Ahly was thrown into doubt after reports in the Egyptian media this week claimed that new contract talks between the club and the South African broke down after the club rejected his financial demands.
Also Read :  AHMED SHOBEIR REVEALED REAL REASONS BEHIND CONTRACT STALEMATE BETWEEN PITSO MOSIMANE AND AL AHLY
Ahly moved quickly on Wednesday to dispel any doubts over Mosimane's future, saying he would see out his contract with the club, which expires at the end of the 2021-22 season.
Read More : MOSIMANE AGREES TO REMAIN WITH AL -AHLY TILL END OF SEASON