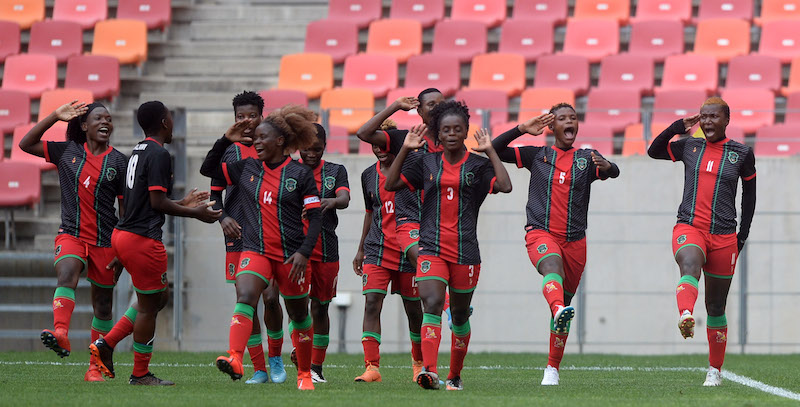 Malawi survived an early penalty scare to come from behind and hold Zambia 1-1 in the 2022 Africa Women Cup of Nations Qualifier played at Bingu National Stadium in Lilongwe on Wednesday afternoon.
The Copper Queens had a bright start to the first-round, first leg game and should have gone ahead as early as the fifth minute.
However, Elizabeth Mupeso missed from the penalty spot after the visitors were awarded the penalty.
Zambia finally made their attacking intent count when skipper Grace Chanda scored the opener in the 21st minute.
The visitors had another chance to extend the lead but Rose Kabzere missed a chance after sending her effort straight into the palms of Malawi goalkeeper Ruth Nyirongo.
Zambia held on to their slender 1-0 lead at break and when play resumed, the hosts pushed for the much needed goal.
Finally, the Scorchers got their reward when Sabinah Thom headed into the net an equaliser in the 66th minute.
The return leg will take place at Nkoloma Stadium on October 26 2021.
The two teams last met in 2020 with Malawi emerging 1-0 winners at Cosafa Women's Championship in South Africa.
The Scorchers were making a return to the qualifiers for the continental competition with their previous last appearance nine years ago ending in the 9-4 loss on aggregate to Zambia.
The winner between the two teams will date either Namibia or Tanzania in the second round.
Malawi XI: Ruth Mhango, Ruth Nyirongo, Chimwemwe Madise, Patricia Nyirenda, Rose Kadzere, Asimenye Simwaka, Thom, Wezzi Mvula, Mary Chavinda, Madyina Nguluwe, Zainab Kapanda, Ireen Khumalo
Zambia XI: Ng'ambo Musole 18, Lushomo Mweemba 3, Elizabeth Mupeso 6, Ochumba Lubanji 7, Magret Belemu 8, Mary Wilombe 9, Martha Tembo 13, Agness Musesa 15, Grace Chanda 10, Susan Evarine Katongo 12, Rachael Kundananji 17