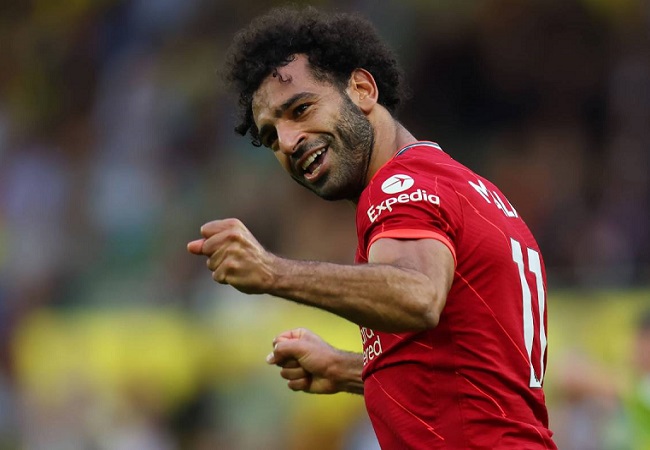 Liverpool manager Jurgen Klopp has, ahead of their trip to Old Trafford on Sunday, refused to draw comparisons between his team's star forward Mohamed Salah and Cristiano Ronald for Manchester United.
Klopp said he has never thought about comparing the qualities of the two forwards, saying both players are good in their rights.
"I never thought about that – why should we compare Cristiano Ronaldo and Mo Salah? Obviously both are world-class players, so that's how it is. Mo's left foot is not that bad, but I would say Mo's left foot is probably better.
"Maybe then Cristiano in the air is slightly better and the right foot is probably better. But speed-wise they are both pretty quick, very desperate to score goals – so maybe that's it. But I really never thought properly about that and I'm not too interested in it, sorry," Klopp told Liverpool website.
Klopp said both teams played midweek so they would go into Sunday's game one equal footing.
Liverpool go into the match having defeated Atletico Madrid 3-2 in a Uefa Champions League match whereas United also saw off Atalanta by a similar margin.
"At Atletico we had a lot of problems obviously, and one is the opponent but it was a massive problem and we saw that. They [Atletico] had the weekend off before. Yes, they played with 10 men but, of course, they had completely different energy than we could have in that game. So, we fought through that, that's how it is. But we came through it, that's good, and now we recovered for the last two days and now today we start preparing the game properly. That's how exactly how it should be. No, no consideration because of the intensity of the last game, for us at least," he said.
Liverpool will be hoping to preserve their unbeaten run going into the Premier League match on Sunday.
Liverpool are second on the log table with 18 points from eight games behind leaders' Chelseas' 19 points from eight matches.
United are on an unfamiliar position six with 14 points from eight games.