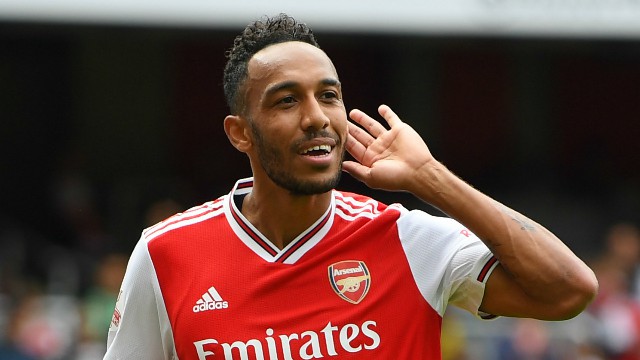 African players have recently commanded top headlines in European league. Mohamed Salah of Liverpool breaking Didier Drogba's record as the highest scoring African player in the Premier League. His team mate Sadio Mane also reached 100 Premier League goals without a penalty, in the Netherlands, Sebastien Haller continues to shine for Ajax and Victor Osimhen is definitely on the rise at Napoli.
Players from the continent are also among the top paid Europe and beyond, this just being the recognition of their contribution to the clubs they play for.
Here are some of the best paid:
Pierre Emerick-Aubameyang: The Gabon forward is also the Arsenal skipper. A lethal forward on his day, Aubameyang is the highest paid African player at the moment. He joined the Gunners from Borussia Dortmund in 2018 and immediately hit the ground running and in 2020, upon the expiry of his initial deal, he signed a new one with a weekly wage of £350,000.
Thomas Partey: Another top earner in the Premier League, happens to be at Arsenal – Ghanaian midfielder Thomas Partey. He is currently on his second season at Arsenal after joining from Spanish champions Atletico Madrid and he is on a £230,000 a month wage. Though slowed down by injury in his first season, he has grown to be a key player for the Gunners as they seek to rise again following years of struggle.
Mohamed Salah: Egyptian forward Mohamed Salah is without doubt the best player in the Premier League at the moment. Maybe his wages at £200,000 do not say much about his ability but he remains among the big earners. His contract with Liverpool is due to expire and he may get a bumper deal that could place him higher.
This season is unfolding as a big one for Salah and he has been a regular scorer for Liverpool. He can be an easy bet for anytime goal scorer going by his form this season and this is bound to be a popular pick for this weekend on most of the bookies when Liverpool hosts Brighton. The best online bookmakers, listed on Wincomparator, come with interesting welcome bonuses; like the 1XBet one of up to €130, Shangrila's €100 free bet bonus and 22Bet's €122 bonus.
Riyad Mahrez: Algerian Riyad Mahrez is in the same pay range as Mo Salah, pocketing £200,000 at Manchester City. He is famed for his trickery and pace in attack and was snapped by City after helping Leicester City to their first league title in 2016.
Sadio Mane: Senegalese forward Sadio Mane has justified the big money move he made from Southampton to Liverpool in 2016. He recently reached 100 Premier League goals and there's all the promise that he will go further. He earns £150,000 at the Merseyside club.
Nicolas Pepe: Ivory Coast forward Nicolas Pepe hasn't hit the heights expected of him when he joined the Gunners in 2019 from Lille. He cost Arsenal £72m and earns £140,000 a week, but so far hasn't been a great performer at the team. Still he ranks among the top five earners.