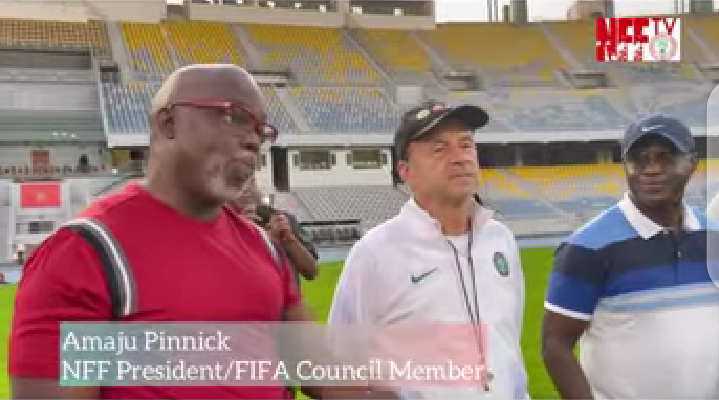 President of the Nigeria Football Federation(NFF) Mr Amaju Pinnick has charged the Super Eagles to give their all and win the game against Liberia.
The Super Eagles will on Saturday lock horns against the Lone Stars of Liberia in Tangier Morocco on Match day five of the 2022 FIFA World Cup qualifier.
Amaju while addressing the players after training on Friday said they must win the game in order to be in the the first five teams that would be seeded for the playoff and avoid countries like Morocco, Algeria.
He urged the players to minimize every mistake and listen to their coach.
"So I want to thank everybody.
This game is so important to us and you know the reasons.
For two reasons, we need to win this game, win the other one so that we can be around the first five so that we avoid, Morocco, we avoid Algeria, we avoid Senegal, we avoid Tunisia.
"Is not that we can't play them or beat them, but what you can avoid you should try and avoid them, so please we should try and minimize mistakes, just listen to you coach.
" We are going to play under a very good atmosphere, good pitch good condition so please I really want to appeal that let's just take our time and start scoring goals from the beginning.
"Once we do that and win the game, then we send a message then we finish the work back home, then we sit down and everything you want we can then say it.
" Everybody wants Nigeria, because us going to World Cup means a lot, global merchandising, global business and is very important we minimize every mistake.