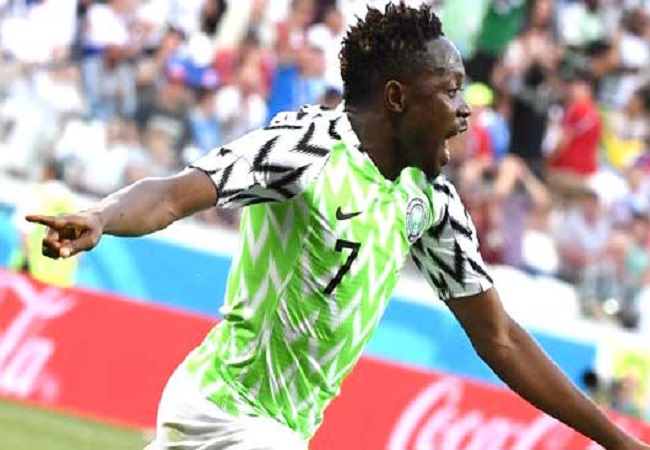 Nigeria are hosting Cape Verde this Tuesday for their crucial 2022 World Cup qualifying match set to kick off at 16:00GMT at the Teslim Balogun Stadium in Lagos. And the Super Eagles most capped player in history, Ahmed Musa is confident of victory ahead this encounter.
Also Read : WCQ: IT'S A MUST-WIN MATCH AGAINST CAPE VERDE-MUSA
The former Leicester City and CSKA Moscow winger wants the Super Eagles to score an early goal to put pressure on the opponents.
Nigeria have no room for error in their bid to progress to the playoff round of the 2022 World Cup qualifiers. They are with only two points separating them from Cape Verde.
Musa underlined that the Super Eagles will not repeat their past mistakes that saw them surrender a four-goal lead to draw with Sierra Leone in a 2021 Africa Cup of Nations qualifier before conceding in the last minute to lose to Central African Republic in the World Cup qualifiers.
"We know how all Nigerians love football. like the other day as she mentioned we lost the game so we don't have to repeat that mistake." Musa said speaking at Monday's pre-match press conference.
"We have done the mistake twice. So the third time we don't have to do that because we know the importance of the game. And we the players know the importance of the World Cup.
"Every player wants to be in the World Cup. If we don't win this game we are out. We have a lot of players who have not been to the World Cup. So everyone wants to be in that tournament.
"We just have to go for ninety minutes, score an important goal in the first half. And in the second half we can finish the game. And then we have qualified to the next round." Added the Super Eagles captain.
Africa's most successful team in World Cup history in terms of points accumulated, Nigeria have qualified for six of the last seven World Cups, reaching the second round on three occasions 1994, 1998 and 2014.