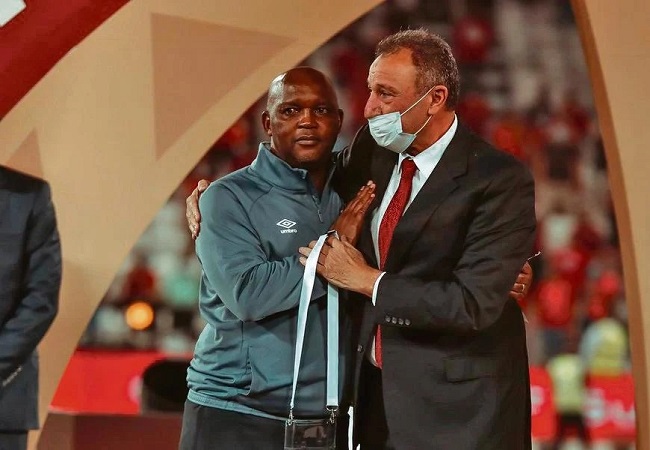 Al Ahly President Mahmoud El-Khatib defended the team's coach, Pitso Mosimane confirming that there is a mutual desire to extend the South African tactician's stay in an interview with ON Sports TV channel on Tuesday night.
Despite claiming various titles with the team, Mosimane still comes under criticism from time to time. Especially since losing the fan-favourite league title last season to archrivals Zamalek.
"Mosimane has worked well with the team so far. The coach has secured many achievements and also delivers a good performance. And there is no team that wins all trophies." El-Khatib said.
After taking over Ahly in October 2020, the 57-year-old Mosimane made an instant impact. He guided the team to a much-awaited African Champions League crown following a remarkable 2-1 victory over perennial Cairo rivals Zamalek in the final a month later.
Also Read :  PITSO MOSIMANE PROMISES AL AHLY FANS 3RD CAF CHAMPIONS LEAGUE IN ROW
He also steered the Red Devils to the Egyptian Cup title. And he helped the team finish third in the FIFA Club World Cup earlier this year before winning Africa's most prestigious club competition for the second time in a row last season.
However, Ahly then began a downward slide, losing the Egyptian Premier League title — which they had won the previous five seasons — to Zamalek before suffering a shocking shootout defeat by unfancied Talae El-Geish in the domestic Super Cup.
"All the criticism levied against him is exaggerated and illogical." El-Khatib added.
Mosimane's future with Ahly was thrown into doubt after reports in the Egyptian media last month suggested that talks regarding renewing the South African coach's contract with the club broke down after the club rejected his financial demands.
Also Read : AHMED SHOBEIR REVEALED REAL REASONS BEHIND CONTRACT STALEMATE BETWEEN PITSO MOSIMANE AND AL AHLY
Ahly moved quickly at the time to dispel any doubts over Mosimane's future, saying he would see out his contract with the club, which expires at the end of the 2021-22 season.
"Any news about a dispute with the coach over extending his contract is simply rumour. This did not happen at all." The Ahly president explained on Tuesday.
"The coach only asked for assurances regarding his job's security. He did not ask for a raise. So, we extended the release clause in his contract from three to six months."
"We decided to postpone the talks with the coach over his contract's extension till the end of the club's elections that will be held on 26 November. The coach wants to stay. And we want him to remain in his post as well." El-Khatib concluded.
Also Read :  AL AHLY COACH PITSO MOSIMANE LOSES TEMPER IN PRESS CONFERENCE
Under the guidance of Mosimane, Ahly secured a 3-2 league win over Ghazl El-Mahalla on Monday to extend their perfect start of the season. They thus claimed 15 points after five games.